If you are planning a precious Baptism, Christening, Communion, or dedication, for girls, finding gift and party ideas is your first step, find Baptism ideas girls.
A baby girl is a miracle, a precious gift from God and a baptism is wonderful time to dedicate her arrival to God, and your commitment to raise her in a Godly manner. You can also celebrate your newest family member with friends and family, and church members by hosting a Christian baby shower for the coming girl.
Baptism gift ideas for girls usually are traditional Christian keepsakes like: baby bible, figures, or a cross. Other baptism gifts for girls can be useful like a blanket or a cuddly gift like: plush Christian teddy bear or plush animal friend.
Most baptism ideas for girls on this page, can be used for a christening, baby dedication, or first communion. The pink blessing party theme for girls has a banner that is personalized, simply add the text you wish for your Christian event. Baptism invitations can also be customized for a christening or Christian baby shower and come in lovely designs.

Pink Baptism/Christening Party Theme for Girls
Darling pink party theme with a cross accent that is perfect for an infant baptism, christening, or girl's Christian event. Choose from different pink baptism party kit sizes depending on the number of guest's attending your event.
Baptism Party Ideas for Girls

Pink Blessings Baptism or Christening Photo Table Cover
Custom-made rectangle picture table cover for your baby girl's baptism or christening event will be a wonderful addition to your event. If you keep this photo table cover clean, you can display on a wall at home after the baptism.

Cross Baptism Balloons for Girls
Decorate your baptism with this balloon kit that has a large cross with pink in the background. You also receive pink and white balloons to complete a balloon decoration. You can also use the pink and white balloons on tables as centerpieces.

Pink Baptism/Christening Party Decorating Kit
This beautiful, Christian decorating kit includes everything you need to decorate your party space for a baptism, christening, or baby dedication and includes: garland banner, 2 cross table centerpieces, 2 hanging honeycomb balls, 4 baby cut out decorations, and a sign that reads:
Children are a gift from the Lord.

Precious Girl in Gown on Her Christening Day
Photo by Dee Jay Marlon.
Baptism Gift Ideas for Girls

Musical Jesus Loves Me Girl Water Globe
Keepsake musical water globe with a baby girl and lamb figurine inside and the globe winds up to play beloved tune: Jesus Loves Me. Precious Moments water globe makes a wonderful Christian baby girl gift idea for a dedication, baptism, or christening.

Baby Girl at Her Christening
Photo by Chauromano.

Pink Baptized In Christ Baby Bank
Porcelain infant boot savings bank with pink laces, silver cross charm, and a medallion accent with the sentiment: Baptized in Christ.
Baptism Invitations for Girls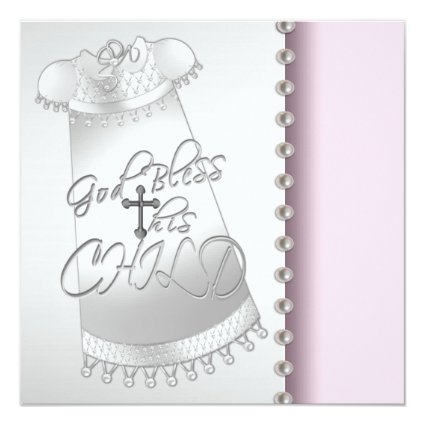 Child of God Baby Girl Christening Invitation
This Christening invitation has a graphic of a baby gown and the front reads:
God Bless This Child.
The backside wording idea is:
Please join us for the christening of our daughter and your event information.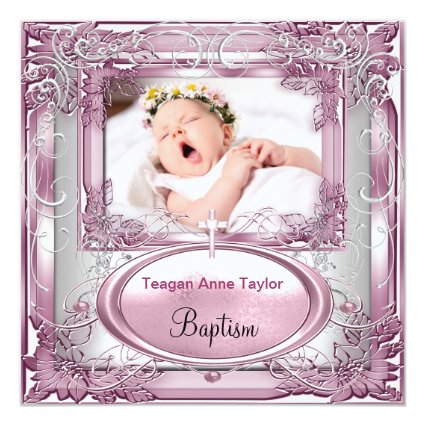 Pink Baptism and Christening Announcement
The front of this announcement has your precious baby girl's photo and the backside has the information.
Check out these other religious gift Ideas