Bible covers for men come in a variety of styles and sizes. Most men will appreciate a handsome leather-like Bible cover.
If you are unsure what type of Bible cover to get him, consider what color he likes. Probably the best-selling Bible cover colors for men are black and brown.
Bible covers for men come in different sizes. Because of the many sizes of Bible covers, be sure to measure the Bible in advance.
Also, consider a Bible cover organizer for a gift. It is a great idea if he is attending a Bible study class.
Many featured Bibles for men below, already have an a cool Bible cover like: leather-inspired. So, purchasing an additional Bible cover is unnecessary.
Since there are so many handsome Bible cover designs to choose from, I have showcased some of my favorite styles below.

Genuine Leather Brown Bible Cover
Handsome leather Bible cover with a cross charm accent. Leather Bible cover is made in the USA and will fit a larger Bible. Also, other Bible cover sizes are available in this design.
Leather Like Bible Covers for Men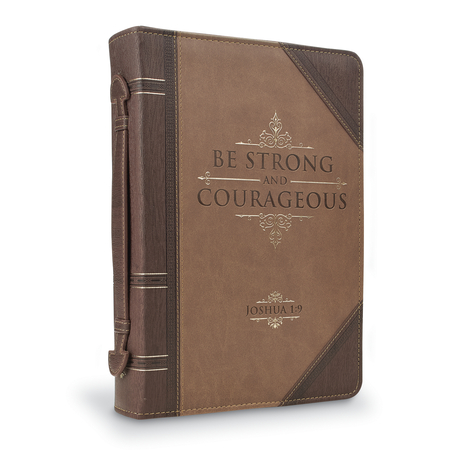 Strong and Courageous Bible Quote Large Bible Cover
Leather-like, large Bible cover will inspire him. Two-tone brown Bible cover embossed with a Scripture verse on both sides which reads:
Have I not commanded you?
Be strong and courageous.
Do not be afraid;
do not be discouraged,
for the Lord your God
will be with you wherever you go.

Joshua 1:9

God Loved the World Bible Cover
Leather-like brown Bible cover with a wrap around zip closure, and printed with this Scripture quote:
For God so loved the
world that He gave
His one and only Son,
that whoever believes
in Him shall not perish
but have eternal life.
John 3:16.

Proverbs 3:5 Brown Bible Cover
Handsome brown Bible cover crafted from leather-like material. Cover has an embossed cross print on one side and a Scripture quote on the back which reads:
Trust in the Lord
with all your heart.
Proverbs 3:5.
Names of Christ Bible Cover

Leather-Like Names of Jesus Large Bible Cover
Durable brown Bible cover with and a harrying handle. Bible cover embossed with a Scripture references to the names of Christ like:
Emmanuel, King of Kings, Lamb of God, Good Shepherd, Prince of Peace, Savior, and more!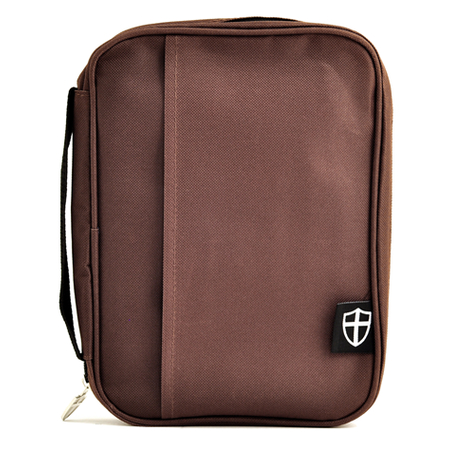 Armor of God X-Large Bible Cover
Affordable Bible cover with a shield Armor of God cross emblem zipper-pull shield emblem, an outside pocket, e pen holders, and a carrying handle.
Camouflage Bible Cover

Soldier of the Cross Camo Bible Cover
Extra large Bible cover in camouflage design and an embroidered phrase which reads:
Soldier of the Cross.
Fight the good fight
for what we believe.
1 Timothy 6:12.
Bible Organizer for Men

Black Bible Cover & Organizer
Black Bible organizer lays flat. Also, the organizer has plenty of room for carrying stationery items like: pens and mini notebooks.
Note: accessories not included.
Check out these other religious gift Ideas