Since a Bible is carried to church and can often be bulky, check out the trendy Bible covers for women. Since most women carry a stylish purse, why not can carry a designer-like Bible cover?
There are so many stylish Bible covers for women, from Purse-style to Brief-case styles! Bible covers are made in many styles of material. Depending on the material you prefer, you have many price points; from higher for leather, to lower for canvas and microfiber materials.
Some of these modern Bibles come with a designer cover, so you don't need an extra cover. No matter what size your Bible and budget is, you have many choices in Bible covers for small, medium, large, and extra-large Bibles. Here is a short list of Bible covers in colors that most women will love to carry to Bible study class or church.

Purse style Bible Cover
Leather-like Bible cover with a textured animal print design.

Briefcase Style Bible Cover
Ethnic Bible Covers for Women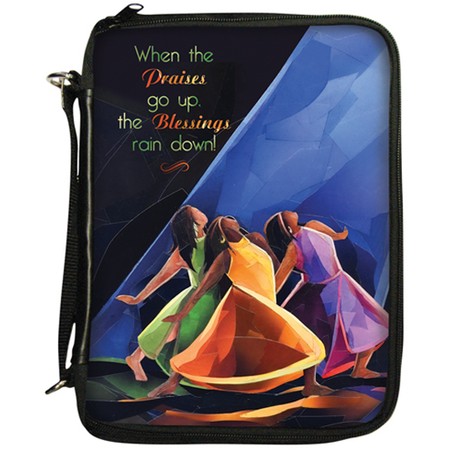 African-American Praises Go Up Bible Cover
Classy black microfiber Bible cover with vinyl front panel that has contemporary artwork of a woman praising God and printed with this quote:
When the praises go up, the blessings rain down!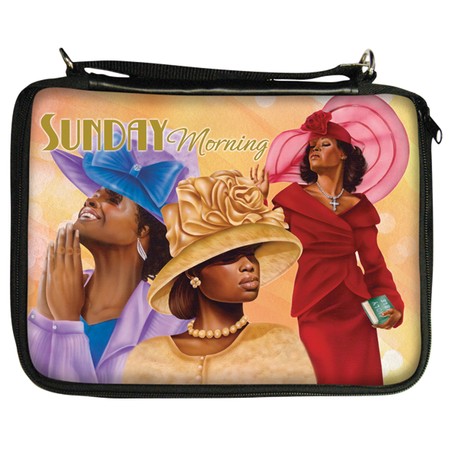 African-American Women Dressed up for Church Bible Cover
This hip Bible cover is made of microfiber and the front has a vinyl panel which has contemporary African American woman graphics. The Bible cover is printed with the quote: Sunday Morning. The cover will fit a Bible which measures: 9.5 inches by 6.5 inches.
There are many other African American Bible covers available in different sizes, one should fit your Bible and unique style!
Fashion Bible Covers

Leather Inspired Bible with Pink Flowers
The Bible is small enough to take anywhere, but the type is large enough to read everywhere. This Bible uses the The New Living Translation, and offers a beautiful cover, made from gray leather-like material along with pink flower graphics!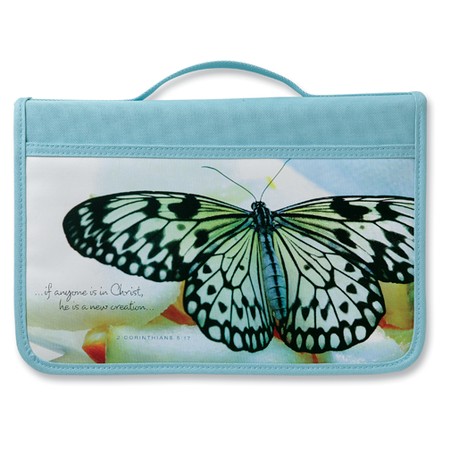 New Creation Pretty Bible Cover
This Bible cover has a butterfly graphic and this Scripture quote:
if anyone is in Christ,
he is a new creation
2 Corinthians 5:17

Let Creation Rejoice Bible Holder
A canvas Bible cover with a graphic of flowers, as well as, the Scripture verse:
Let all creation rejoice
before the Lord.
Psalm 96:13.


Serenity Prayer Graphic Bible Cover
American Women's Hardcover Bible

American Hardcover Bible for Women
Unique Bible for women that uses the New King James Version translation that dives into Godly virtues and the making of America.
Check out these other religious gift Ideas