Charlie Brown Christmas Ideas
Are you a fan of A Charlie Brown Christmas, by Charles M. Schulz, and look forward to watching this classic Christmas cartoon? Fans of the Peanuts Gang can celebrate Christmas this year by using some of these Charlie Brown Christmas ideas, decorations, gifts, and party supplies!
You can host your holiday party with some of these Charlie Brown Christmas party supplies, featured in the top photo. Find a host of religious Charlie Brown party supplies, books, decorations crafts, giveaways, greeting cards, and collectible gifts for the Peanuts Gang fan.
Don't be a "block head" and forget to add the Charlie Brown Christmas tree to your decor this year! Find many other Charlie Brown collectibles to add to your home or give as gifts.

Peanuts Christmas Nativity Pageant Figurines
Fun Charlie Brown Christmas Nativity play figurines with the Peanuts Gang dressed up in the pageant costumes they wore during the movie! The Charlie Brown collectible Christmas pageant set comes with the accessories shown and includes 8 pieces.
At your Charlie Brown Christmas party, you can play the classic A Charlie Brown Christmas movie or music from the hit TV show, that will put all your guests in the holiday spirit
When I was in 6th grade, my classmates and I, had so much fun starring in our school Christmas program It's a Charlie Brown Christmas; and I have never forgot the wonderful memories of that play! Those were the days when did not have to worry about all the politically "correct" ways to Merry Christmas and mention "God" in school, without offending someone.
My family and I look forward to watching A Charlie Brown Christmas and other Peanuts Gang movies each holiday season. It is a tradition at our house and I hope at your home too!
Charlie Brown Christmas Greeting Cards

Peanuts Linus Religious Christmas Cards
Christmas cards have Linus on the cover, spreading his Biblical message which reads:
For unto you is born this day in the city of David a Savior, which is Christ the Lord.
And this shall be a sign unto you; Ye shall find the babe wrapped in swaddling clothes, lying in a manger.

And suddenly there was with the angel a multitude of the heavenly host praising God, and saying,
Glory to God in the highest, and on earth peace, good will toward men.
Luke 2:11-14 KJV
Charlie Brown Christmas Ideas Party Supplies


Printable Peanuts Christmas Party Supplies
Digital Charlie Brown and the Peanuts Gang Christmas party kit with over 60 pages of supplies which include the following items: banner sign, box, cupcake wrap, cutlery wrap, invitation, label, goody box, popcorn box, tags, tent cards, and so much more!

Peanuts Christmas Party Supplies

Peanuts Christmas Party Cardboard Display
Christmas cardboard decoration has a graphic of Sally, as well as, the quote:
Let There Be Peace On Earth


Snoopy Dog House Digital Holiday Party Supplies
Banner
Invitation
Food Tent
Cupcake Top
Water Bottle Label
Welcome Sign

Printable Merry Christmas Charlie Brown Mad Lib Game
Charlie Brown Religious Christmas Party Favors

Peanuts Christmas Bookmarks 24-Pack

Charlie Brown Holiday Buttons 24-Pack
Set of 24 Christian Charlie Brown Christmas buttons each printed with an inspirational sentiment like: Be a Cheerful Giver, Hark the Herald Angels sing, Make a Joyful Noise!

Charlie Brown Christmas Pencils 24-Pack
Christmas pencils, in assorted colors, feature different inspiring sayings and make lovely stocking stuffers. They're also nice gifts from Sunday School teachers to students – encourage kids to write their assignments and lessons with the help of Snoopy and his friends.

Religious Peanuts Christmas Mini Puzzles
Inspirational Peanuts cardboard puzzles come in a set of 12 and each puzzle has 24 pieces.

Peanuts Christmas Stickers 100-Pack
Religious Peanuts Christmas Crafts

Religious Charlie Brown Christmas Crafts for Kids 12-Pack
Delight children attending a Peanuts Christmas party with this inspirational craft. Completed standing craft stars Sally as an angel and printed with this quote:
Peace on Earth.

DIY Peanuts Christmas Stockings 12-Pack
Delight children with this Charlie Brown Christmas stocking craft by using markers to color in the graphic of Snoopy hugging Woodstock.
Charlie Brown Christmas Figurines

Charlie Brown Christmas Music Figurine
Limited-edition PEANUTS Christmas musical decorative figure has Charlie Brown, Linus, and Snoopy decorating the Christmas Tree and the base has a graphic of Linus giving his famous speech and the Peanuts Gang decorating the tree, with the sentiment: That's what Christmas is all about Charlie Brown, plus the box plays the tune:
Hark! The Herald Angels Sing.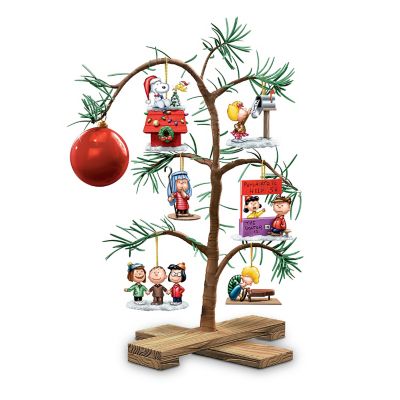 Charlie Brown Christmas Tree With Ornaments
Officially licensed Charlie Brown Christmas tree with the classic red ornament, as well as, 6 figurines like: Charlie Brown, Linus, Lucy, Sally, Snoopy, Schroeder, and more!
Check out these other religious gift Ideas