Christian Bags and Purses
Women love to carry a fashionable handbag, purse or wallet and Christian bags and purses are a great way to show your faith — in style! There is a wide variety of religious tote bags, makeup bags, purses, and other accessories or the Christian gal to carry.
When I chat with my girlfriends, most of them did not know how many trendy religious fashions choices were available! Some of my favorite bags have polka dots, fun prints, paisley designs, bold and bright colors to match my style!
Many of the Christian tote bags come with a matching wallet and makes a perfect gift. Carry a tote to church, school or work that reflects your Faith and offers an encouraging message or Scripture quote on it!

Blessed Woman  Walk With God Tote Bag


Inspirational Promises Canvas Tote Bag
Canvas black and white tote bag printed with the Bible verse: The Lord is faithful to all His promises and loving toward all He has made. Psalm 145:13. Tote bag has a zippered inside pocket, magnetic top closure and double carrying handles.


Cross Embellished Cross Over Bag and Cell Phone Holder Handbag Collection
Leather-inspired Christian pink cross body bag, with a brown section on the bottom, with a Cross centerpiece, and rhinestone studs.  Don't miss the matching Christian cell phone holder to complete the look.
Western Style Christian Bags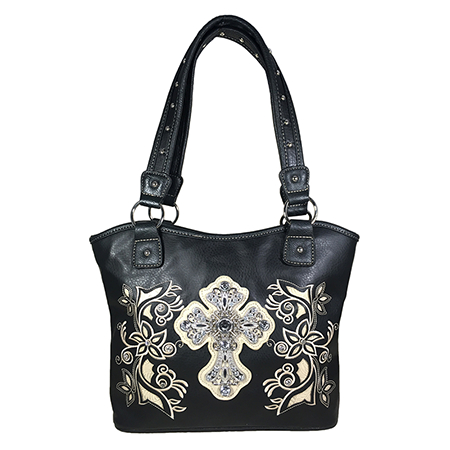 Black Western Style Cross Purse


Bible Verse Western Style Purse and Wallet Set
Country fun Christian handbag and wallet set with a cross accent and both the bag and wallet are printed with the following Scripture quote:
Every weakness you have
is an opportunity for God
to show His strength
in your life. 2 Corinthians 12:9.
More Christian Handbags and Purses

Purple Christian Purse


Christian Handbag
Modern Christian handbag in multi colors with top black carrying handles, a carrying strap, printed with the sentiment:
I can do all things through Christ who strengthens me.
Philippians 4:33
Christian Coin Bag for Women

Inspired Grace Coin Purse and Key Holder
Beautiful inside and out, as well as, I am fearfully and wonderfully made. Psalm 139: 14.
Christian Carry All Tote Bags

Footprints in Sand Tote Bag
Canvas tote bag with a beach scene and printed with the beloved Footprints in the Sand prayer.

Proverbs 31 Tote Bag
Eco-friendly Christian tote bag is black, and has a modern font printed in pink font that reads:
She is clothed in strength and
dignity and she laughs without
fear of the future.
Proverbs 31:25.

Hope Christian Canvas Retro Tote Bag
A fun Retro-style religious tote bag that reads:
This Hope is an anchor for the soul, firm and secure. Hebrews 6:1.
The tote is great to use for books, church, and grocery shopping!

Hope Blue Shopping Tote Bag
This reusable, lightweight religious tote bag is designed by Miriam Hahn. The tote measures: 14 inches wide and made of recycled nylon and printed with these encouraging words:
Hope. Let your grace flow through us.
Smile God loves you. Serenity. Believe.
Faith. Strength and Courage. Eternal truth.
Hope in the Lord renews my strength.
Check out these other religious gift Ideas