Find an assortment of modern Christian bracelets on this page. A christian bracelet will make a wonderful gift for many special occasions like: anniversaries, birthdays, and also holidays.
Christian bracelet styles vary from Cross designs to charm bracelets. Many bracelets are engraved with a Bible verse. In addition, religious bracelets are fun fashion accessories.

3 Religious Stretch Bracelets
Casual Christian stretch bracelet set has assorted metal beads, as well as, small charms engraved with inspirational words.
These inspirational charm bracelets come in 3 colors, silver tone, 3 metal tones, and also a green mixed design. Each bracelet is engraved with an inspirational sentiment like: faith, love, peach, serenity, wisdom, and more.


12 Leather and Cross Bracelets
Life of Jesus Christ Charm Bracelets

Lord is my Shepherd 23rd Psalm Charm Bracelet
Christian beaded charm bracelet has a card which explains the various bead colors, as well as, symbols from the 23rd Psalm.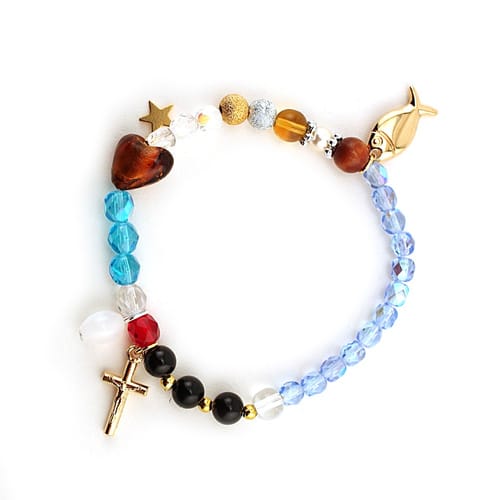 Life of Christ Charm Bracelet
Beautiful beaded charm bracelet that tell the story of the life of Christ. Come with a prayer card that tells the story of the charms and what the beads represents.
Angel Charm Bracelets

Diamond Accent Angel and Cross Charm Bracelet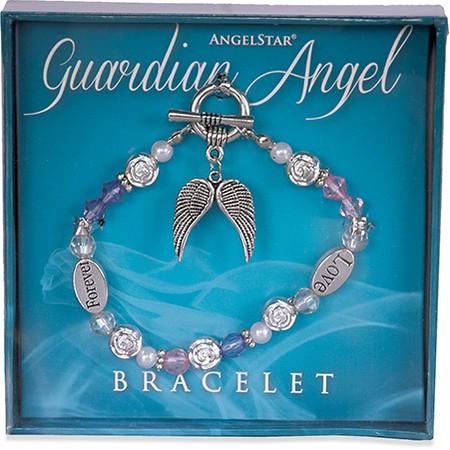 Guardian Angel Charm Bracelet
Stretch beaded bracelet has angel wing charms and also a charm tags which read:
Love and Forever.
Christian Bracelets for Women

Gold-Plated Diamond Accent Cross Bracelet



Lord's Prayer Cuff Bracelet
Cuff bracelet inscribed with the Lord's Prayer along with a cross accent.

10 Commandments Charm Bracelet
Elegant Christian bracelet contains 10 charms on a silver-tone chain. Plus, each charm is engraved with one of the Ten Commandments!
Christian Bracelet Crafts

DIY 12 Beaded Religious Bracelets
Check out these other religious gift Ideas