Find an assortment of modern Christian bracelets on this page. A christian bracelet will make a wonderful gift for many special occasions like: anniversaries, birthdays, and also holidays.
Christian bracelet styles vary from Cross designs to charm bracelets. Many bracelets are engraved with a Bible verse. In addition, religious bracelets are fun fashion accessories.

3 Religious Stretch Bracelets
Casual stretch bracelet set has assorted metal beads, as well as, small charms engraved with inspirational words.
The inspirational charm bracelet come in 3 colors, silver tone, 3 metal tones, and also a green mixed design. Each bracelet is engraved with an inspirational sentiment like: faith, love, peach, serenity, wisdom, and more.


12 Leather and Cross Bracelets
Life of Jesus Christ Charm Bracelets

Lord is my Shepherd 23rd Psalm Charm Bracelet
Beaded charm bracelet has a card which explains the various bead colors, as well as, symbols from the 23rd Psalm.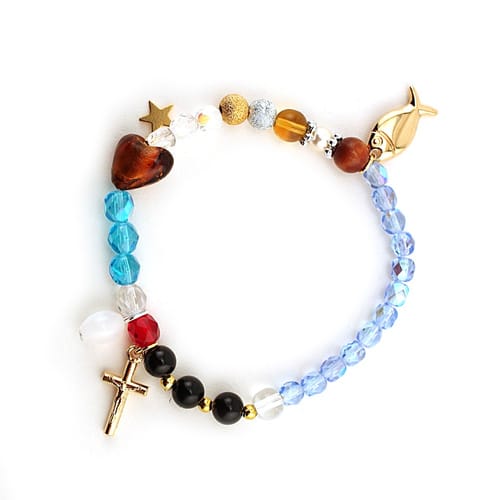 Life of Christ Charm Bracelet
Beautiful beaded charm bracelet and each charm refers to a section the life of Christ. Also, the bracelet comes with a prayer card.
Angel Charm Bracelets

Diamond Accent Angel and Cross Charm Bracelet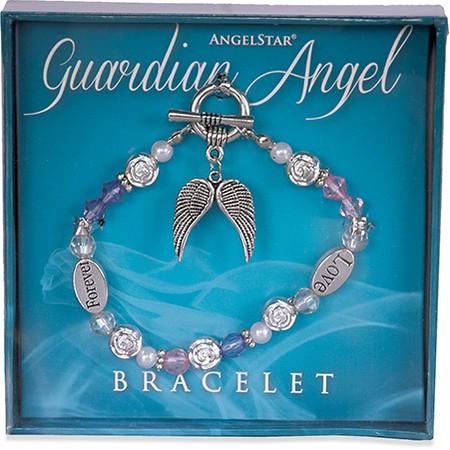 Guardian Angel Charm Bracelet
Stretch beaded bracelet has angel wing charms and also a charm tags which read:
Love and Forever.
Christian Bracelets for Women

Gold-Plated Diamond Accent Cross Bracelet



Lord's Prayer Cuff Bracelet
Cuff bracelet inscribed with the Lord's Prayer with a cross accent.

10 Commandments Charm Bracelet
Christian bracelet contains 10 charms place on a silver-tone chain. In addition, each charm is engraved with one of the Ten Commandments!
Christian Bracelet Crafts

DIY 12 Beaded Religious Bracelets
Check out these other religious gift Ideas