Christian Christmas Decoration Ideas
Each year I scour my favorite sources for Christian Christmas decoration ideas and this year are some new decorations that make wonderful Christmas gifts or use in your own home.
Find affordable Christmas art prints for every home and the beautiful manger scene wall art is a great gift idea.

Holy Family Dome Scene Decoration
Beautiful Christian Christmas decoration, this open dome globe has the Nativity scene inside and will enhance any mantle or table.
Other beautiful Religious Christmas decoration ideas are the Names of Jesus ornaments in a keepsake box by Barbara Rainey, Gifts of the 3 Wise Men to the Baby Jesus in treasures chests and religious Christmas figurines.
Christian Christmas Wall Art

Wise Men Still Seek Him Christmas Wall Sign
Affordable Christian Christmas wall decoration which his a banner printed with the 3 Wise Men as they find the baby Jesus on Christmas Eve in the Manger. Also, the Religious wall banner is printed with this quote:
Wise Men still seek Him.
Come and worship the King.
Christian Christmas Home Decorations

Sleeping Holy Family Figurine
One-piece Holiday figurine of the Holy Family, which includes: Joseph, Mary and Baby Jesus fast asleep.
Holy Family figurine measures 6 inches tall and made of stone resin.

Musical Baby Jesus in Manger Figurine
Christmas figurine of the Christ Child in the mange in ivory and gold accents. Wind up the musical figurine to hear the beloved tune: Silent Night.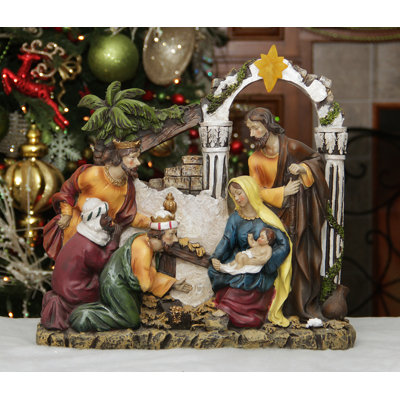 Holy Family and Three Kings Nativity Scene
Beautiful one-piece Nativity scene with the Holy Family: Joseph, Mary and Baby Jesus, and the Three Wise Men; Gaspar, Melchior and Balthazar, set against a doorway, and stone stable wall.
Christmas Names of Christ Ornaments

Names of Jesus Ornament Set
Beautiful ornaments made in gold-trimmed names, each represent the names of Jesus. Ornaments are packaged in an elegant keepsake box. By Barbara Rainey from Family Life Today collection. Ornaments names include:
Christ the Lord
Emmanuel
Ever Thine Home
Jesus
Mighty God
Prince of Peace
Savior
Wonderful Counselor
Each Christmas ornament has a fabric ribbon for hanging on the tree.
Holy Night Christmas Song Video
Oh Holy Night Christmas Lyrics
O Holy Night the stars are brightly shining;
It is the night of the dear Savior's birth!
Long lay the world in sin and error pining
Till He appeared and the soul felt its worth.
A thrill of hope the weary soul rejoices,
For yonder breaks a new and glorious morn.
FALL on YOUR KNEES
O hear the angel voices!
O NIGHT DIVINE…
More Religious Christmas Decorating Ideas

Wise Men and Nativity Scene Tree Decorating Set
Set of 19 Christian Christmas tree decorations made in black metal material.
Set includes the tree topper, Manger scene ornaments, as well as, the Wise Men ornaments.

Holy Night Stained Glass Sun Catcher
Check out these other religious gift Ideas