Christian Christmas Figurines
Christian Christmas figurines, musical figurines, and also religious Christmas globes, are wonderful home decorations, as well as, Christmas gifts.
Thomas Kinkade Christian Christmas figurines maybe the most popular decorations, since they finely crafted.
Other religious Christmas figurines range from Nativity figurines to elegant Thomas Kinkade decorations.

Hark Angels Sing Nativity Christmas Tree Figurine
Gold-tone metallic finish Nativity scene Christmas tree decoration with 3 detailed angel figures.
In addition, the Christmas tree portrays The Holy Family, shepherds, sheep, and also the Three Kings.
Also, the Angel on the tree top holds a sign which is printed with the word: Hallelujah.
Christian Christmas Figurines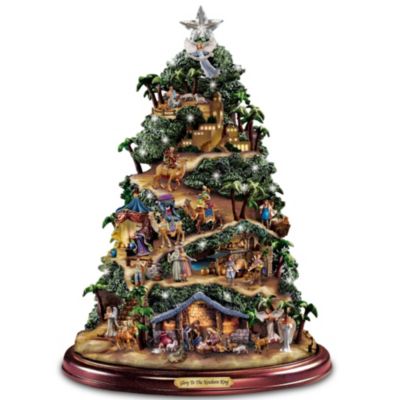 Glory To The Newborn King Nativity Tree
Beautiful detailed lighted Christmas tree decoration with stunning figurine details from the angel on top, Three Wise Men traveling on their camels, and finally, the manger scene with The Holy Family inside.

Angel and Holy Family Scene Decoration
Stacking Christmas Nativity scene contains a large Angel figurine, Mary, Joseph, and the Baby Jesus in His manger.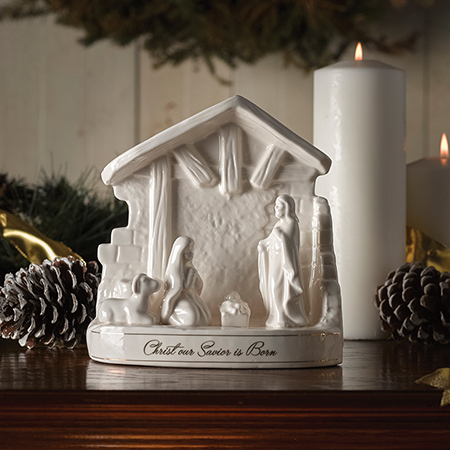 Porcelain Nativity Scene Setter
Affordable Nativity scene decoration made of porcelain in white with gold. On the base is the phrase: Christ our Savior is Born.
The Nativity scene has a manger background and will be an elegant Christmas decoration where space is limited like a fireplace mantle or small wall shelf.
Musical Christian Christmas Decorations

Holy Night Musical Christmas Water Globe
Religious water globe decoration with the Baby Jesus in the manger figurine inside. Wind up the water globe to hear the beloved Christmas Hymn, Oh Holy Night.
The Christmas water globe base is printed with a quote by Alda Maria which is as follows:
One child, one night,
one star so bright.
God gave us just one,
His only Son.
And from one birth
came peace on earth;
one holy night,
one guiding light.
Check out these other religious gift Ideas