Christian Christmas Home Decorations
As Christians prepare for the Christmas season, most holiday decorations are non-religious and since Jesus is the heart of Christmas consider using one, or more, of these true Christian Christmas home decorations.
While the story of Santa Claus is cute and the decorations are in abundance, these decorations do not reflect the true Biblical Christmas story.
Since I prefer using Christian Christmas home decorations for the home, there is a large assortment of styles.
Finding Christian gifts for Christmas is also becoming a challenge, since most of the Christmas gifts do not have the Christian in mind.
Christmas is the time of celebrating the Birth of the Lord and Savior, Jesus Christ!
Celebrate the season and display a variety of Christian Christmas decorations throughout the home.

News of Great Joy Printable Christmas Art
Digital Religious Christmas Art Prints


Christmas Manger Scene Print
Beautiful digital art print of Baby Jesus in the manger with the sentiment: Love Came Down at Christmas.


Birth of Jesus Manger Digital Print


Digital Emmanuel Chalk Style Art

Manger Scene Print
Digital folk art Nativity Scene!
In addition, the print features a quote from the beloved Christmas song, which says:
He will bring us
Goodness and Light.
Christian Christmas Home Decorations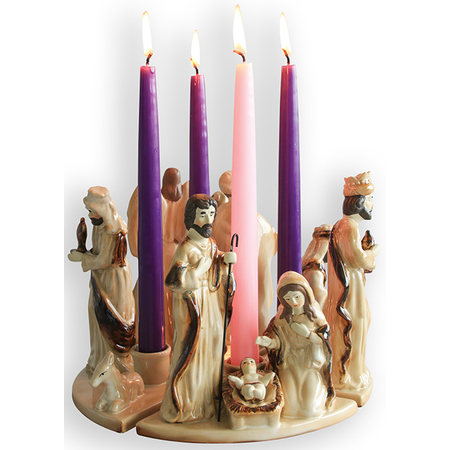 Christmas Advent Wreath
A unique wreath is surrounded by the characters at the Nativity and includes: Holy Family, Wise Men with animals, Shepherd with Lamb, and also an Angel.

Holy Family Scene LED Christmas Lamp
Stunning LED Christmas lamp adds an stained-glass effect to any home. The Holy Family Christmas home decorative lantern stands 7 inches tall and will look lovely on a mantle or table.

Advent candles by Christmas tree
Photo by John Morgan.
Thomas Kinkade Christmas Decoration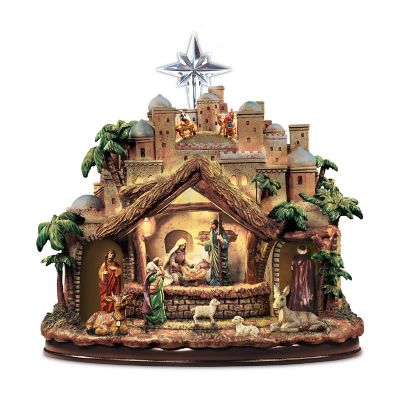 Thomas Kinkade Musical Holiday Sculpture
Not only is this Christmas Nativity home decoration beautiful, it is musical.
Nativity figurine depicts the entire Bible story and also plays several beloved Christmas tunes like: Hark! The Herald Angels Sing, Joy to the World, Silent Night, as well as, the First Noel.
Christmas Nativity Home Decorations

Triptych Holy Family Figurine
A nativity Christmas scene depicts the manger scene with the 3 Wise men kneeling before the Baby Jesus with an outline of the City of Bethlehem background.

Modern Religious Christmas Figurines
Ivory-tone Nativity set with an arch with star overhead.
Holy Family Christmas Dolls


Precious Moments Nativity Doll Set
Beautiful vinyl Christmas dolls which include the following: Mary, Joseph, and also the Baby Jesus. Nativity dolls will make a wonderful Christmas decoration for home, office, and also a church area.
Check out these other religious gift Ideas