Christian Christmas Jewelry
Christmas is the most wonderful time of the year to deck the halls at work, home, or parties when you put on a piece of Christian Christmas jewelry!
Religious Christmas jewelry is a popular gift idea and fun to wear because of the festive styles.
Probably, the most popular Christmas jewelry for giving is a Nativity Christmas charm bracelet!
From elegant Christian Christmas jewelry to novelty jewelry pieces, find a piece for every budget. In addition, Christian Christmas jewelry is a wonderful gift idea for the women in your life this year!

Religious Snowflake Christmas Earrings
Elegant snowflake earrings boxed with this poem:
Shimmering bright,
so pure and white.
Fluttering down on a
still winter's night.
As snowflakes softly
melt on your cheek.
Remember that each
one is unique.
One of a kind,
sparkling through.
A gift so wonderful,
just like you!
Advent Carded Gift Pins

Advent Carded Buttons 12-Pack
Mini Advent pin comes on a gift card which explains the reason for season. Advent card reads:
Advent is a special season where we
await the birth of our Lord Jesus.
Evergreens in an Advent wreath
symbolize new and eternal life
given by Jesus.
The circle of the wreath
is God's eternity.
Each week we light a
candle to represent God's
light coming into
the world.

The candles stand for:
Hope, Peace, Joy, Love, and
the white candle stands for
Christ bringing light into the world.
Christian Christmas Charm Bracelets

Nativity Charm Bracelet
Christmas bracelet to wear all during December, which makes a wonderful gift for her! The nativity bracelet has of detailed silver-tone charms that includes: angel, shepherds, star, Christ child, Mary and Joseph, cattle, and wise men.
Nativity bracelet comes in an elegant gift box with this Bible quote on the lid which says:
I bring you good news of
great joy that will be for all people.

Jesus is the Reason Nativity Bracelet
Christian Christmas gift bracelet with a Nativity charm centerpiece, green and red beads, plus a gift card that reads:
Jesus is the reason for the season.

Christian Christmas Charm Bracelet
Religious Christmas beaded stretch charm bracelet with beads in clear, green, and red, with a Nativity scene charm, plus a charm that reads: Love.
Christian Christmas Pins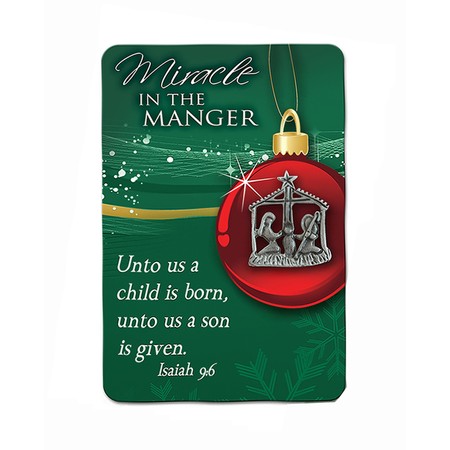 Carded Nativity Manger Lapel Pin Gift
A great small gift for Christmas! Pin is made of pewter manger. The Christmas pin is a great small jewelry gift and comes attached to a card printed with a Bible verse.


Christ is Born Carded Christmas Pin
Nativity lapel pin comes on a beautiful gift card that has the Baby Jesus in a manger, a warm sentiment and this Bible quote:
Christ the Savior is Born
For unto you is born this
day in the city of David a Savior,
which is Christ the Lord.
Luke 2:11

May Baby Jesus, born for you,
bring you hope in his love and peace
in his forgiveness throughout this
holy Christmas season.

Jesus is the Reason for the Season Lapel Pin
Christmas stocking pin embossed with the word "Jesus". Christmas pin arrives with a gift card printed with this quote:
Jesus is the reason for the season!

Come to Bethlehem Christmas Lapel Pin Carded
Religious Christmas lapel pin and matching card gift set. The Christmas lapel pin is cross-shaped with the manger scene inside. Also, the pin comes on a Christmas card which is printed with this Bible verse:
Let us go over to Bethlehem and
see this thing that has happened,
which the Lord has made known to us.
Luke 2:15

Carded Christian Christmas Tree Pins 12-Pack
Christmas tree pin made to  read For God So Love the World and the rest of the card printed with this sentiment:
that he gave his one and only Son
that whoever believes in him shall
not perish but have eternal life.
John 3:16.
Christmas Angel Jewelry

DIY Christian Christmas Jewelry Charms
Religious Christmas jewelry charms come in 4 designs: angels, doves, and also crosses.

12 Carded Christmas Angel Pins
Set of 12 silver-tone angel pins come on a card with this sentiment: May angels help guide you through Christmas this year, and bring you great blessings of family and cheer.

DIY Christmas  Angel Earring Crafts 6-Pack
Gold-tone Christmas angel earring craft is for pierced ears. Create 6 angel earrings in each craft kit.
Check out these other religious gift Ideas