Christian Christmas Novelty Items
Christian Christmas novelty items in a fun assortment of bulk, and individual bookmarks, crafts, coloring books, ornaments, pins, and other small religious novelty gift ideas great for Christmas stocking stuffers, giveaways for kids, prizes, or a holiday party favor.
Christian Christmas novelty items are an affordable way to share the love of Christ with everyone on your list this year and most of them come in a pack or 12 (or more) making them an affordable and FUN religious Christmas giveaway.
Use some of these religious holiday novelty items are great for Christmas party door prizes, teacher gifts, and stocking stuffers. The novelty Christmas crafts can be made by children, or adults, and used as a gift for friends, and family.

12 Baby Jesus Manger Figurines Gift Bagged
An adorable Christian Christmas baby Jesus in a manger figurine comes in a red velvet pouch printed with a lovely quote which says: God's gift changed the world.
Baby Jesus figurine is crafted of resin and is available in sets of 12, making them great novelty Christmas give-a-ways.
Budget Christian Christmas Novelty Items

Oh Holy Night Hanging Card Holder
Hanging wood card holder with a silhouette graphic of the Nativity scene along with the Bible verse which reads:
And she brought forth
her firstborn son,
and wrapped him in
swaddling clothes, and
laid him in a manger.
Luke 2:7

Oh Holy Night Christmas Card & Mini Ornament
Beautiful standing Christmas card with a pewter-tone ornament. Christmas card has beautiful graphics set against a red background. Christmas card has 4 sides printed with a variety of Biblical quotes.

Religious Christmas Pin & Card
Christian Christmas star pin comes on a themed mini card with an exert of the hymn: O Holy Night.

Oh Holy Night Tote Bag
Christmas tote bag can be used as a shopping bag or as a gift bag.

Oh Holy Night Acrylic Serving Tray
Clear acrylic Christmas plate has a red Nativity graphic.

Baby Jesus Mary Joseph in Christmas Play
Christmas pageant photo by anjanettew.
Christian Christmas Novelty Gifts for Kids


Christmas Star Novelty Activity Set for Kids
Kids can follow the story about the birth of Jesus from Mary and Joseph's journey to Bethlehem to His birth in a stable. This religious Christmas activity set has ideas for Christian activities for kids, a poster to decorate with stickers and another poster to color in.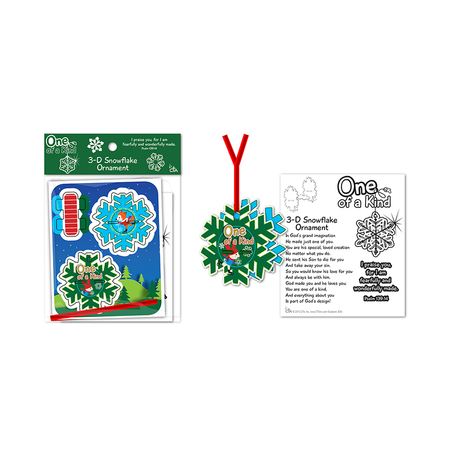 Kid's Religious Christmas Novelty Ornament Craft
Children can make their own snowflake Christmas ornament and hang on the tree with this easy-to-make Christmas ornament craft that tells them how unique they are.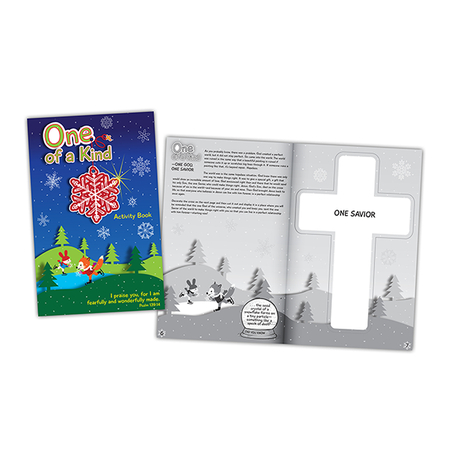 Christmas One of a Kind Novelty Mini Activity Book
Small religious Christmas activity book will encourage kids to celebrate how they are, unique and one-of-a-kind! Each Christmas activity book has 16 pages of faith-filled Christmas activities.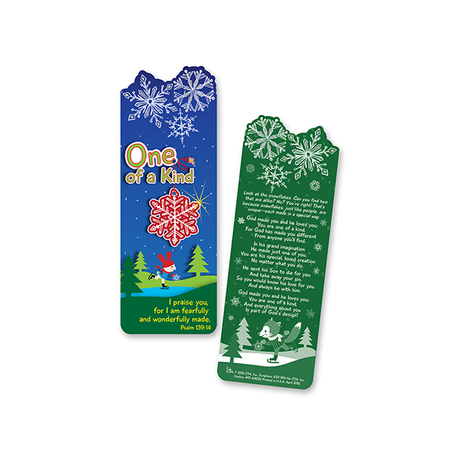 Religious Christmas One of a Kind Novelty Book Mark
Christmas gift bookmark with the One of a Kind poem and with the Scripture quote:
I praise you, for I am
fearfully and wonderfully made.
Psalm 139:14.
Christian Christmas Bookmarks

Christmas Jesus Is Born Bookmarks 25-Pack
Inspirational, encouraging, and whimsical children's bookmarks with Joseph, Mary and baby Jesus celebrates the true meaning of Christmas. Religious Christmas bookmark has whimsical artwork of the Holy Family and also printed with this Bible verse:
And she brought forth her
firstborn son, and wrapped
him in swaddling clothes,
and laid him in a manger.
Luke 2:7.
Christmas bookmarks are terrific and make inexpensive gift ideas for when you need a lot of Christmas gifts, giveaways, or teacher gifts.

First Noel Christmas Cross Bookmarks 25-Pack
Cross shaped die-cut Christmas bookmark set with a manger filled with straw and printed with these quotes:
Noel, Born is the King of Israel. Rejoice!

Religious Christmas Bookmark & Pen Set
Religious Christmas bookmark and pen set printed with the word, Believe. Also, Christmas bookmark has this beloved Biblical quote which reads:
For unto you is born this day
in the City of David a Savior,
who is Christ the Lord.
And this shall be a sign unto you:
You shall find the Babe wrapped
in swaddling clothes,
lying in a manger.
Luke 2:11-12.
Check out these other religious gift Ideas