Christian Christmas Ornaments
Christian Christmas ornaments are a wonderful gift idea for almost everyone on the Christmas list.
Religious Christmas ornaments come a large selection of styles and prices, one just right for gift-giving the season.
Since most ornaments are gift-boxed, one will be an affordable Christmas gift for either a family member or friend.
In addition, most featured Christmas ornaments can be personalized and make a wonderful gift for any age.

Silhouette Holy Family Ornament
The Christmas ornament is crafted from glass and is painted with an illustration of the Holy Family in silhouette form.
In addition, the ornament is printed inside with Luke 2:11 Scripture quote.
Heirloom Christian Christmas Ornaments

Nativity Cross Ornament
By Jim Shore, this cross Christmas ornament is painted with beautiful details and also the sentiment, A Child is Born.

Nativity Christmas Ornaments Set
A stunning Heirloom ornament collection! Each ornament is hand-painted and tucking inside a keepsake box.
Nativity ornament set includes the following: 3 camels, 3 Wise Men, angel, donkey, Holy Family, Shepherds, Sheep, and also the Star of Bethlehem.


7 Names of Jesus Ornaments
Each ornament spells out a name for Jesus Christ like: Christ the Lord, Emmanuel, Mighty God, Prince of Peace, Savior, as well as, Wonderful Counselor.


Wooden Nativity Scene Ornament
Laser-engraved wood ornament with the Manger, Wise Men, Shepherds, Mary, Joseph, the Baby Jesus, along with the Scripture:
For unto us a child is born,
unto us a Son is given.
Isaiah 9:6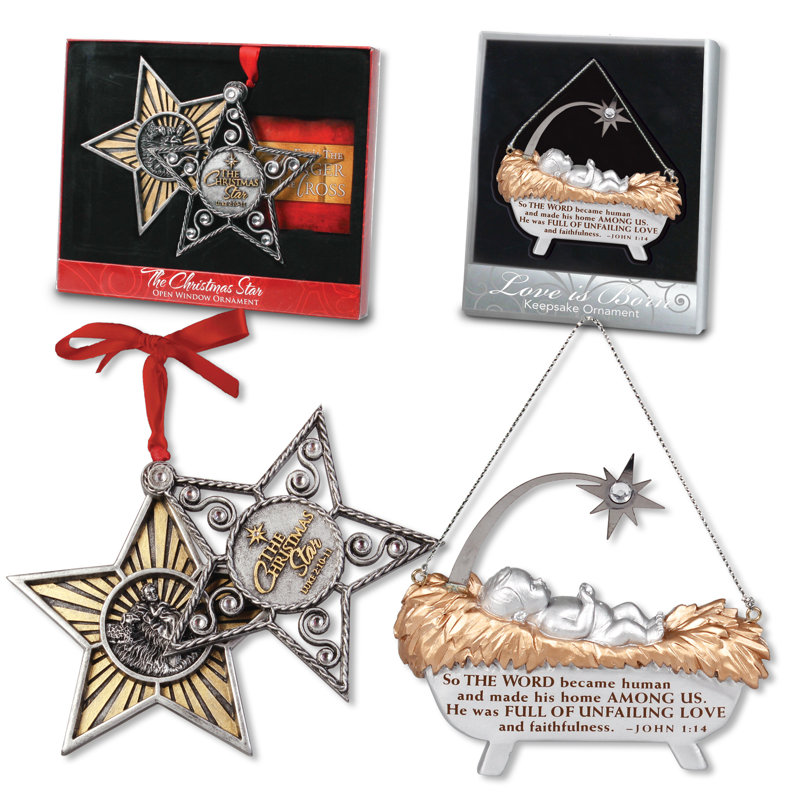 Christ the Savior is Born Ornament Set
The manger ornament is printed with the following Bible verse:
So the Word became human and
made his home among us.
He was full of unfailing
love and faithfulness.
John 1:24.

By Andrew Malone.
Kid's Religious Christmas Ornaments

Legend of the Lamb Carded Ornament
The cute ornament is little lamb with a matching gift card printed with another Legend Christmas quote which reads:
In the fields nearby the shepherds watched over their flocks of sheep.
Angels appeared and told the shepherds of the Savior's birth.
As the shepherds hurried to see the newborn King, their little lambs followed them to the manger.
They gazed up the baby Jesus. Perhaps they knew the importance of His coming, as they gathered around Him.
He was the Lamb of God.
Gift Christian Christmas Ornaments

Baby Jesus Ornaments 12-Pack
Affordable ornament with a star top and the baby Jesus in swaddling clothes with the quote:
The gift that forever changed the world.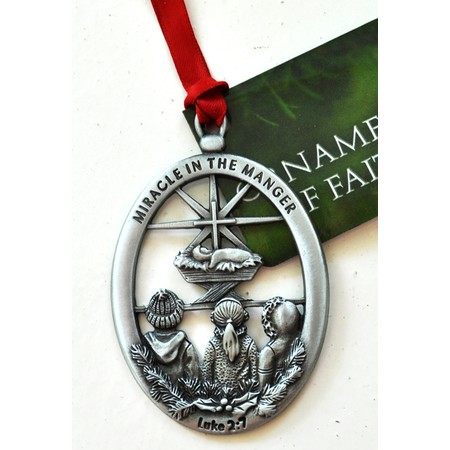 Manger Gift Ornament
Pewter Christmas ornament with scene of 3 children who are looking down upon the baby Jesus.
In addition, the ornament is affordable and boxed for giving.
Check out these other religious gift Ideas