Christian Christmas Party Ideas
The Christmas season is upon us and you may be wondering what party supplies you can use for a Christian Christmas party at home or for a church event.
One religious Christmas party idea is having a Charlie Brown Christmas party complete with religious party supplies. I have an entire page devoted to a religious Charlie Brown Christmas and there are more Peanuts Gang party ideas.
If you are looking for Happy Birthday Jesus party ideas, this is really a fun theme for a Sunday school class or church party. You may wish to use paper goods for your Christmas Eve food or religious Christmas party and there are several paper and plastic party supplies available from cups, napkins, plates, and kids can enjoy doing a Christian activity or craft to fill in the time.
All your Christmas party guests can spend some quality time together and play a religious Christmas game, or make a fun craft.

Starry Night Christmas Treat Bags 12-Pack
Christmas treat bags have a beautiful Holy Family scene and also printed with the Bible verse  from Luke 2:7.


Christmas Bible Story Activity and Coloring Pages Download
Adorable religious Christmas activity pages, and color pages, to download and print. These Christmas activities for children have 8 pages of adorable graphics, some of a Bible verse, short story, and coloring fun for young children.
8 Nativity activities and color pages in this digital file include:
Angel Activity Coloring Page
Away in a Manger Activity Coloring Page
Christmas Animals Activity  Page
Holy Family Activity Coloring Page
Little Drummer Boy Activity Coloring Page
Shepherds Activity Coloring Page
Nativity Scene Activity Coloring Page
Wise Men;Activity Coloring Page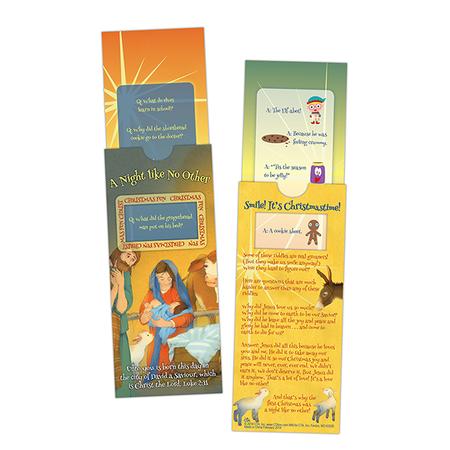 Christian Christmas Night Like No Other Surprise Riddle Game
Religious Christmas bookmarks with Bible trivia and riddles that kids will enjoy. The bookmark has a card inside that slides up to reveal 6 riddles in the window, and when you turn the bookmark around, you will find the answers!
Each bookmark has the Holy Family in the Stable graphic and animals and uses this Bible verse:
Unto you is born this day in the city of David a Saviour, which is Christ the Lord.


Christian Christmas Bingo Games 30-Pack
Traditional Christmas Bingo Games and 19 Religious items. Receive a file with With this listing you 30 printable 5 inch by 7 inch Bingo cards. The Bingo cards use the phrases: Angel, Faith, and Jesus. There will also be 2 calling cards on a 8.5 inch by 11 inch sheets with a total of 74 calling items.


Nativity Scene Banner Sign Crafts 12-Pack
Create this felt sign to declare the "good news" about the birth of Jesus! The sign comes with a dowel rod for hanging has a Nativity scene of the Holy Family and reads:
Good Tidings of Great Joy.
Our Savior, Christ the Lord.

Group shoot of Children's Christmas Party
Photo by Pittsburgh Association of the Deaf clubhouse, Pittsburgh, Pennsylvania

Nativity Theme Christmas Place Mats 50-Pack


Cute Christian Christmas Wall Decal Set
Christian Christmas Gift Bags

Jesus is the Heart of Christmas Gift Bags 12-Pack
Christmas gift bags for church giveaways, parties, and Sunday School and family gift-giving.
Pack of 12 Christmas gift bags with cord handles and reads: Jesus is the Heart of Christmas.


Jesus Light of the World Christmas Gift Bag Set
Religious holiday gift bags with lighted Christmas icons and printed with the quote, Light of the World, as well as Bible verse!

Religious Christmas Treat Bags 12-Pack
Cute Christian Christmas  paper bags have a graphic of the  baby Jesus in the manger with a stainted-glass background and also this sentiment:  Christmas is a promise kept.
Religious Christmas Party Ideas


What God Wants for Christmas Party Kit
Share the true meaning of Christmas when you host a religious Christmas party with this book and party kit that includes:
8 – postcard invitations
9 – Christmas tracts for children
8 – What God Wants for Christmas mirrors
8 – wristbands
6 – nativity cookie cutters
1 – cookie tin
1 – booklet with step-by-step planning, tips and recipes

Religious Christmas Star Light-Up Badges
Lighted religious Christmas star buttons which are self-adhesive and have a cute northern star graphic and also a religious quote like:
For unto us a Child is born and Guide us to your perfect light.

Jesus is Born Star-Shaped Noise Makers
Religious star-shaped hand clappers have an illustration of Baby Jesus in the Manger and printed with this quote: Jesus is Born.
Christian Christmas Candy

Religious Christmas Candy Bags 46-Pack
Candy bags for a Christmas party printed with the beloved quote: Joy to the World. Christian Christmas candy bags are wonderful for a church event.
Christian Christmas Party Giveaways

Long Arm Nativity Stuffed Animals
Plush set of 12 long-arm Nativity animals make a wonder Christmas party giveaway and decoration.

Religious Christmas Pencils Bundle 144-Pack
Bundle of Christian Christmas pencils come in many styles and make a great stocking stuffer or small gift for kids.

Nativity Shaped Erasers
Adorable, religious Nativity shaped eraser set make an excellent Christmas stocking stuffer for children. Nativity erasers come in a package of 9 with Baby Jesus in manger, Mary, Joseph, star, donkey, lamb, and 2 shepherds.
Check out these other religious gift Ideas