Christian Christmas Picture Cards
Send a wonderful message of Christmas this year with this photo card that showcases a tree in the forest and a star shining above.
Share a Christmas card with a photo of your family this year. Also, Christmas picture cards can be made from a home printer or have card designers print off the cards.
Also, it is easy to create a Christmas family newsletter which has pictures printed right on the stationery sheets.
Whether you make your own Christmas picture card, or choose to use a company, I have hand-picked some wonderful Christian card ideas and most have a Scripture quote printed right on the front to give you an idea of what Bible verse sentiment to use this year.
One of my favorite Christmas pictures portrays the scene where Baby Jesus was born. Also, my favorite Holiday Scripture quote is so pretty and reads:
For unto us a Child is born,
Unto us a Son is given; and
the government will be upon His shoulder.
Isaiah 9:6
Nativity Scene Christmas Cards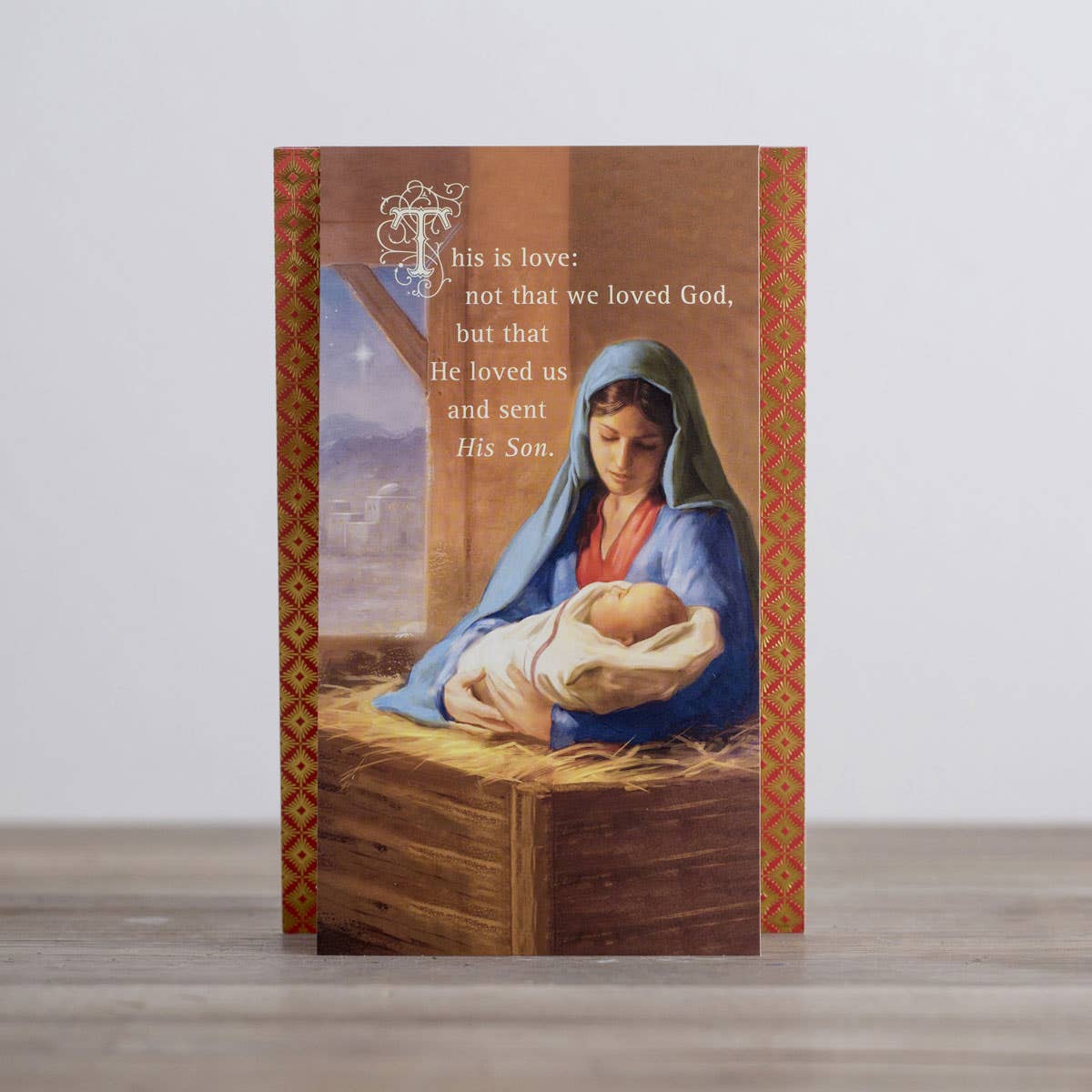 Mary and Baby Jesus Christmas Boxed Cards 18-Pack
Celebrate the greatest gift of all, Jesus Christ, this season with loved one's with an inspirational Christmas card that has Mary and the baby Jesus, along with this Bible verse:
This is love: not that we loved God,
but that He loved us and sent His Son.
DIY Nativity Scene Photo Cards

Printable Away in the Manger Christmas Card Art
Hand made religious Christmas art for cards, crafts, and Bible journals. Receive a file for 2 Baby Jesus in the manger art work, one with the verse: The starts in the sky looked down where He lay.

DIY Nativity Picture Frame Cards
Save by adding a favorite photo to these Nativity scene picture frame cards printed with a Bible verse which reads:
For unto us a child is born,
to us a son is given,
and the government will
be on his shoulders.
And he will be called
Wonderful Counselor,
Mighty God,
Everlasting Father,
Prince of Peace.
Isaiah 9:6.
Nativity photo Christmas cards come with matching envelopes.
Bible Verse Holiday Picture Cards

Printable Christ Lord Verse Christmas card art set
Printable Christmas card and art print with the entire Bible verse from Luke 2.


12 Christian Holiday Scripture Quote Card Templates
Set ff 12 popular Christian themed Christmas card templates that come in folded and flat card styles. Christmas cards are contemporary designs and come with an address wrap label.
Christmas card titles include:
Amazing
Believe
Celebrate
Glory To God
Greatest Gift
Joy
Peace
Shining Star
Wonder

Religious Holiday Story Photo Card
Share photos and joy with this religious Christmas card that shares the reason for the season, along with a section of the Bible story which reads:
A Savior has been born to you;
He is Christ the Lord.
Luke 2:11
Religious Christmas Photo Cards

Prince of Peace Bible Verse Photo Christmas Card
An eye-catching religious Christmas card with a photo that makes a wonderful keepsake card! The front has room for one large picture and the sentiment: Rejoice and be glad in it, along with your names. The back of the card is printed with this beloved Bible verse:
For a child will be born to us,
A Son will be given to us: and the government
will rest on His shoulders;
and His name
will be called
Wonderful.
Counselor,
Mighty God,
Everlasting Father,
Prince of Peace.
Isaiah 9:6

Come Let Us Adore Him Christmas Photo Cards

Scripture Luke 2:10 Christmas Photo Card
Photo Bible Verse Christmas card which reads:
Behold I bring you good tidings of
great joy which shall be to all people.
Luke 2:10
Joy to the World Christmas Cards

Joy To The World Christmas Cards 20-Pack
Send peace, goodwill, this Christmas season with an inspirational cards, with a dove of peace illustration by Deb Grogan. Each card reads: Joy to the World, along with the Scripture quote inside.

Christmas Joy Photo Cards

Joy Personalized Christmas Cards


Joy to the World Poster With Lyrics
Check out these other religious gift Ideas