Christian Easter Greeting Cards
Christian Easter greeting cards share the "good news" that Jesus Christ has risen and conquered the grave, just like He said He would!
Share a religious Easter card with Scripture quotes and glorious photos of the Bible story from the empty tomb, Easter morning, Last Supper, or Our Lord Jesus Christ!
The message of Jesus dying on the Cross was unclear and His followers were in hiding or trying to decide if all their work was done in vain, until the women went to the tomb where Jesus lay to dress His body for a proper burial.

3 Crosses on Hill Easter Cards 8-Pack
Beautiful package of religious Easter cards with an illustration of 3 crosses on hill, paired with this Scripture quote which reads as follows:
We know that the Son of God
came so we could recognize and
understand the truth of
God what a gift! and we are
living in the Truth itself,
in God's Son, Jesus Christ.
This Jesus is both
True God and Real Life.
I John 5:20

3 Crosses in Garden at Church on Easter Sunday
Photo courtesy Chelms Ford Blue.
Religious Empty Tomb Easter Cards


8 Empty Tomb of Christ Easter Scripture Cards
These Christian Easter note cards have the empty tomb in gold-bronze accents and reads: The stone has been rolled away and inside this sentiment and Scripture quote:

He's alive forevermore!
Praise the Lord!
May You Be Reminded Of
His Great Love For You This Easter

He has risen! He is not here.
See the place where they laid Him.
Mark 16:6 NIV

Easter Empty Tomb Cards
Share the glorious story of the resurrection of Christ this year with these religious Easter note cards with a beautiful illustration of the empty tomb along with a relevant Bible verse.


Easter Celebrate Risen Christ Note Cards 8-Pack
Watercolor empty tomb scene make these note cards perfect for many people on your Easter list.
Each note card has this Easter Scripture verse: He has risen. Matthew 28:6 NIV.
In Christ Alone – Live Concert Music
Religious Easter Cards for Kids


24 Religious Easter Cards with Milk-Chocolate-Flavored Cross
Give children one of these religious Easter cards with chocolate-flavored cross this year! Easter cards have a a packaged 1-oz. chocolate-flavored cross in the center and come in 2 styles. Cards read: Rejoice in the wonder of the day and May His light shine up you.

Religious  Easter Cards for Kids
Share this religious Easter card with a child as a reminder of the true meaning of the season.

Easter Way of the Cross Printable 14 Coloring Pages
Perfect for children to use during the Easter season, these coloring pages depict the different scenes of the Bible story of Christ, using the phrase: Way of the Cross.
These printable Christian Easter  story pages come in 2 PDF files that have 14 pages of different scenes from the Bible story and the coloring pages are numbered  stations of the cross that Jesus Christ endured, along with a sentiment, plus a Scripture quote for Bible memorizing.
Christian Easter Greeting Cards


12 Religious Easter  Greeting Cards
Get 12 beautiful Easter scene cards, with a Christian saying, Bible quote and sentiment on each card.

Easter How Great Thou Art Cards
Religious Easter greeting card with a photo of a man outside with arms spread wide, praising the Risen Christ! Inside the card is this Bible verse:
This is love:
not that we loved God,
but that He loved us and sent
His Son as an atoning sacrifice
for our sins.
I John 4:10 NIV
Crown of Thorn Prayer Cards
When they had twisted a
crown of thorns, they put
it on His head, and a reed in
His right hand. And they
bowed the knee before
Him and mocked
Him, saying,
"Hail King of the Jews!"
Matthew 27:27-29.

Easter Crown of Thorns Label Pin on Pocket Card
This crown of thorns lapel pin is has pewter-finished and comes on a pocket-sized card that has the Easter cross scene and the front has this Scripture quote:
This is love, not that we have loved God but that he loved us. 1 John 4:10.
The backside of the card reads:
Love that bled, Love that died, Love that rose again for you. This Love, this personal self-giving love, changes everything!

Crown of Thorns Keepsake on Prayer Card
Small  prayer card comes with a small Crown of Thorns silver tone replica. Crown of Thorns prayer which is as follows:
As I gazed upon this Crown of Thorns,
I am reminded that our Lord was mocked
and scourged as He gave His life for me.

As I reflect upon this unbroken chain
of thorns, grant that I may remain
unbroken in my faith and love in
times of difficulties, as our
Lord has remained unbroken in
His faith and love for me, untimely
sacrificing Himself for my sins.

Weaving a crown out of thorns,
they placed it on His head.
Matthew 27:29.
Easter Bookmark Gifts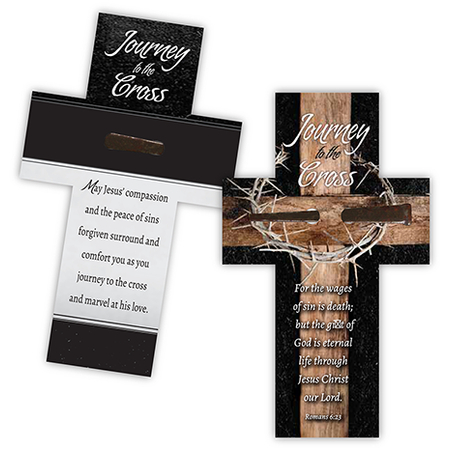 Journey To the Cross Bookmark and Rustic Nail
Cross-shaped bookmark with a nail keepsake that serves as a reminder of the  sacrifice of Christ. Easter nail and bookmark makes a great Easter giveaway and the main Bible verse reads:
For the wages of sin is death;
but the gift of God is eternal
life through Jesus Christ our Lord.
Romans 6:23

12 Easter  Bookmarks &  Nail Cross Pins
More Christian Easter Greeting Cards

Alleluia Easter Cards
These Easter cards are the perfect way to share a photo and a blessing this Easter.  These photo Easter cards read:

Christ the Lord is Risen Today Alleluia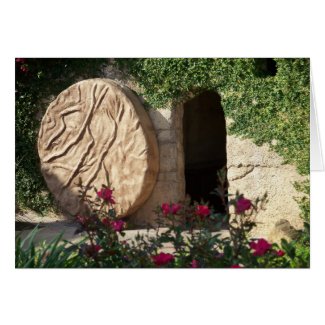 Risen Empty tomb of Jesus Note Card
This Easter card is the true message behind this Holy holiday, an empty tomb. This beautiful site means that the Lord Jesus Christ has conquered the grave — and He is alive! The inside of this Easter greeting card can be personalized with your message next to this saying:
Happy Resurrection Day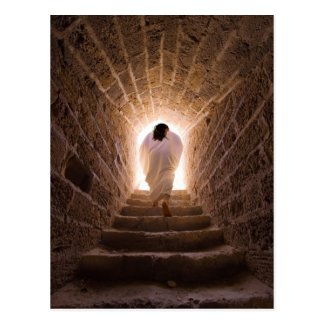 Resurrection of Jesus Christ postcard
Resurrection of Christ Scripture quote:
The angel said to the women,
Do not be afraid, for I know that are
looking for Jesus, who was crucified.
He is not here: he has risen, just as
he said.
Come and see the place where
he lay. Then go quickly and tell his
disciples: He has risen from the dead
and is going ahead of you into Galilee.
There you will see him, Now I have told you.
Matthew 28:5-7
Check out these other religious gift Ideas