Christian framed artwork is one of the ways I choose to decorate my home. If you enjoy Christian art, why not invest in religious framed pictures to decorate your home? Christian artwork is also a great way to decorate a wall in your office.
Framed religious pictures and art prints are a perfect Christian gift for both men and women. You can rotate your Christian pictures during each or holiday like: Christmas, Easter, or Thanksgiving and your art in a safe place for the next season. Christian wall art pieces come either framed or unframed. You have a choice of art print sizes, and price points, one just right for your budget.
Fine religious framed art is always a welcome gift for a family member, friend, or for a church ministry appreciation gift.

Jesus Christ Praying Framed art Print
Stunning Life of Christ framed art work by Mark Missman titled: Our Father.
Christian Framed Artwork

Christian Lost Sheep Framed Print
Stunning picture of Jesus, the good shepherd, reaching for a lost, black lamb on a steep hillside and printed with this Bible verse:
Neither height
nor depth,
nor anything
else in all creation,
shall be able to
separate us from the
LOVE of God.
Which is Christ
Jesus Our Lord.
Framed Armor of God Art Print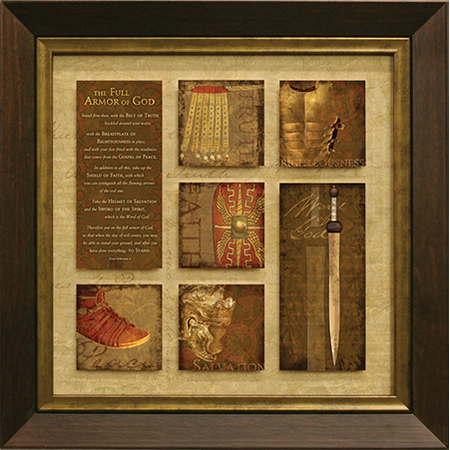 Full Armor of God Quote Art Print
This Scripture quote is very popular and this 20″ x 20″ modern gold-toned framed art print is a wonderful picture for an office or home decoration. This print has the Full Armor of God quote on the left side, with 7 illustrations relating to the quote on the right. Illustrations include:
Sword of the Spirit,
the Helmet of Salvation,
the Shoes of Peace,
the Breastplate of Righteousness
and the Belt of Truth.
Christian World Map Framed Art

Disciples of All Nations Map Art Print
I love this Antique-style Christian framed picture that showcases "The Great Commission" in an Old World map design. My MIL has one of these Christian map art prints in her home and it is beautiful! The art print also has the Scripture quote from word's Jesus said words in Matthew 28:18.
Therefore go and make disciples of all nations.
Framed Courageous Lion Art Print

Christian Lion Be Strong Framed Art
This stunning framed art print of majestic lion represents strength and courage. A powerful Scripture verse in elegant script in the lower corner finishes the art and reads:
Be strong and courageous;
do not be afraid or discouraged,
for the Lord your God is with
you wherever you go.
Joshua 1:9.
Framed Scripture Quote Art Prints

Lord's Prayer Framed Art
An affordable Christian decorative framed art print with an antique design. This framed Christian picture has Cross graphic along with this prayer Scripture quote which says:
Our Father in heaven,
hallowed be your name;
your kingdom come;
your will be done;
on Earth as it is in Heaven.

Give us this day our daily bread.
And forgive us our debts,
as we forgive our debtors.

And do not lead us into temptation;
but deliver us from the evil one.
For yours is the kingdom and
the power and the glory forever.
Amen. Matthew 6:9-13.
More Christian Artwork

Jesus Lives Verse Picture
Stunning picture with an illustration of Christ printed with this sentiment:
Thank God for sending
Jesus who is at the
Father's right hand
and who makes intercession
for us. From Romans 8:34.
Check out these other religious gift Ideas