Christian Gift Ideas for Her
Find a wide selection Christian gift ideas for her, which great for ya Women's Bible study groups, Secret Sister, as well as, Sunday school teachers.
Each religious gift idea for her can be used for a birthday, holiday like: Christmas or Easter, or just to share your faith with a woman you love in your life.
These Christian gift ideas for women, add a modern flair to traditional Christian gifts for her, and many gifts are practical, or useful, like: calendars, coffee mugs, bracelets, figurines, jewelry, journals, kitchen items, note cards, and also T-shirts.
Share one of these gifts with a Christian women you know in your Bible study class, church employee, family member, friend, neighbor, sister, or mom. After all, each woman of God your know are all sisters in Christ!
Other religious gift ideas for women include popular collections by author, Karen Kingsbury, artist Kelly Rae Roberts, and each item can be given individually or you can place several items in a gift basket or gift bag.

Woman of Faith Cross Necklace
Silver-plated women's petal cross with a Cubic Zirconia gemstone in the center, comes on a 18 inch chain, presented in a jewelry box with an insert that has a praying woman graphic, and printed with this Bible verse:
O Lord my God I wait for you,
you will answer.
Psalm 38:15.
Any Occasion Christian Gift Ideas for Her

Praying Woman Figure
Modern woman kneeling in prayer before an open Bible. The base of the figurine has a raised plaque engraved with the Scripture quote:
I call on you, my God,
for you will answer me;
turn your ear to me and
Hear My Prayer.
Psalm 17:6.

Praying Women
Photo by David Amsler.


Christian Friendship Coffee Mug and Calendar Gift Set for Her
Bless a Christian girl friend and express your thanks to God for the friendship you share when you gift her this set which includes:
365 Day True Friendship Perpetual Calendar
Christian Coffee Cup – You Know, Heaven Stuff
Bible Journaling Craft Set

Illustrated Faith Christian Devotional Craft Set
Use this craft kit to make your devotional's personal! This Illustrated Faith craft set is like: scrap booking! But, as you craft you are really studying the word of God! Inside this devotional craft set find 12 sections to complete and recognize why you were created and the set has these items:
Devotional booklet
12 Devotions
Own It – Exodus 35:31-32
Name It – 1 Corinthians 12
Nail It – 1 John 1:9
Explore It – James 1:5
Make It – Luke 1:37
Pray It – Psalm 145:18
Wait It – Hosea 12:6
Find It II Timothy 3:16-17;
Create It – I Timothy 4:14-15
Honor It – Deuteronomy 6:5;
Share It – Mark 16:15
Work It – Proverbs 3:6
Clear stamp collection
Bow clip
Stamp pad
Sheet of cut outs/sticker
Scripture's to share
Washi tape
Biblical Women Gift Ideas

Queen Esther Anointing Oil and Necklace Set
Stunning Queen Esther crown pendant design is based on an antique piece once owned by a Holocaust survivor, comes with a set of glass bottles pure olive anointing oil from the Holy Land!
Christian Books for Her

Visual Bible Guide of Women
Guide book about amazing women of the Bible is fully illustrated, with references, and discussions the role of women in Biblical times, along with how Jesus treated them.

Bible in 366 Days for Women Gift Book
New Living Translation Bible that walks women through the Bible in 366 days!
This Bible has 366 core passages, arranged chronologically from Genesis to Revelation, along with a short and relevant devotional thought for each day of the year.
Religious Jewelry Gift Ideas for Her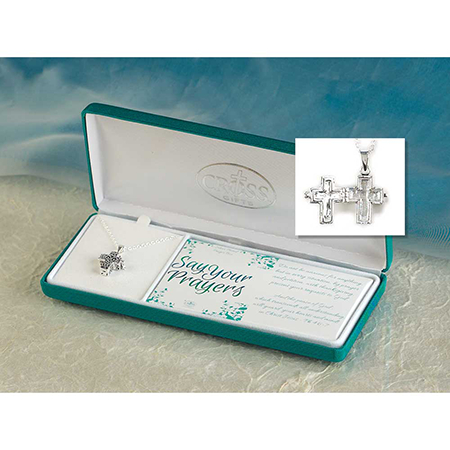 Cross Prayer Box Pendant Necklace for Her
Unique cross accent prayer box pendant, which is  similar to a locket, to write down small prayers on a piece of paper. Each cross prayer locket box, comes in a jewelry box with in an insert printed with this Scripture verse:
Do not be anxious for anything, but in every situation,
by prayer and petition, with thanksgiving,
present your request to God.

And the peace of God,
which transcends all understanding,
will guard your hearts and minds in
Christ Jesus.
Philippians 4:6-7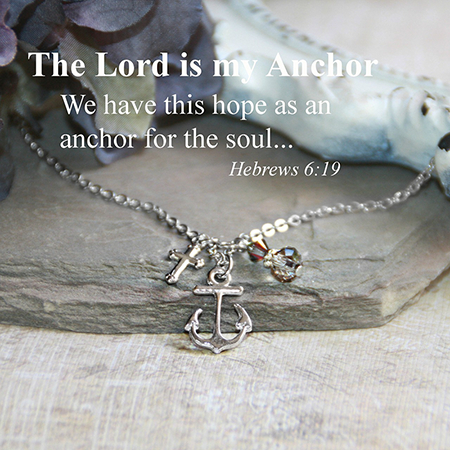 The Lord is my Anchor Christian Pendant Necklace
Christian Anchor-shaped pendant,;a Cross charm, plus a crystal bead charm. The necklace arrives in packed with an insert printed with this Bible verse:
The Lord is my Anchor.
We have this hope as an
anchor for the soul.
Hebrews 6:19.
More Christian Gift Ideas for Her


Christian Women's T-Shirts


12 Friendship and Thinking Of You Cards for Women
Each Christian greeting card has artwork by Megan Hagel, with encouraging words. as well as, a Bible verse.

Proverbs 31 Coffee Mug
Christian cup with a woman printed with this popular Bible verse:
She is clothed with
strength and dignity;
she can laugh at
the days to come.
Proverbs 31:25

Sisters In Christ Travel Mug
Festive travel mug with a bird graphic and also a Sister in Christ prayer by Alda Maria.
Check out these other religious gift Ideas