Christian gift sets come in different styles for children, teens, men, youth, and woman. Christian gift collections make it easier to find just the right gifts for the people of faith in your life.
Many of these Christian gift collections feature stunning artwork of Jesus that can be given the adults in your life.

Sadie Robertson Christian Gift Set
Delightful Christian gift set for her which has a trinket dish, necklace, and matching gift bag. Necklace is gold-tone bar engraved with an arrow and the sentiment: Live original.
Sadie Robertson gifts also includes a bag and trinket dish which has a diamond graphic and also printed with the quote: You are valuable.
Christian Gift Sets for Him

Blessed Man Religious Gift Set for Him
Handsome gift set for men with a Christian journal, coffee mug, perpetual calendar, as well as, a gift bag.
Christian Cards and Gifts Bundle

Religious Gift and Card Thank You Bundle
Life of Christ Cards and Holder

Life of Christ Witness Cards in Promise Book Holder
Small, business-sized witness card set that offer encouragement to those in need, or use these cards and place them around the house as a reminder of the love of Christ. Each beautiful witness card has artwork by Brian Jekel, plus a Bible verse. Life of Christ cards come in a set of 40, 4 styles, and arrive in a matching "promise box" that resembles a book.
Jesus Calling Book and Calendar Gift Set

Jesus Calling Perpetual Calendar and Devotional Book Set
By Sarah Young, Jesus Calling is a best-selling Christian book and this book is the devotional book on how to experience and enjoy God's abundant peace and calming presence. Jesus Calling is paired with the perpetual calendar which offers devotions and graphics 365 days of the year.
More Christian Gift Sets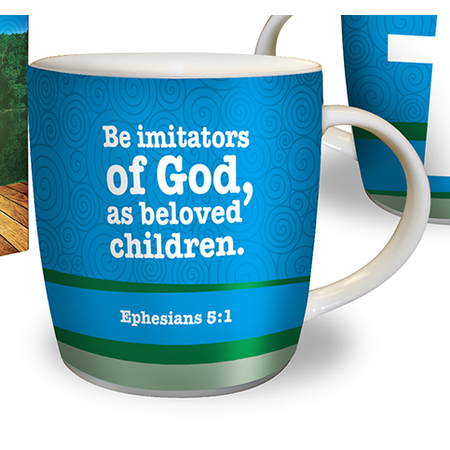 Be Imitators of God Coffee Mug
Handsome gift-boxed Christian blue mug has the  Bible verse in bold font that reads:
Be imitators of God,
as beloved children.
Ephesians 5:1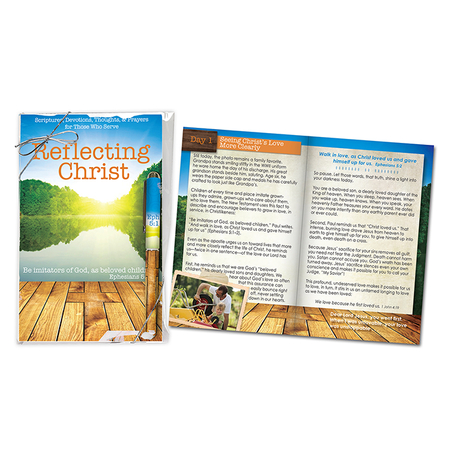 Reflecting Jesus Devotional Mini Book and Pen Gift Set
64-page devotional  booklet comes with a ballpoint pen and  wrapped for an instant gift.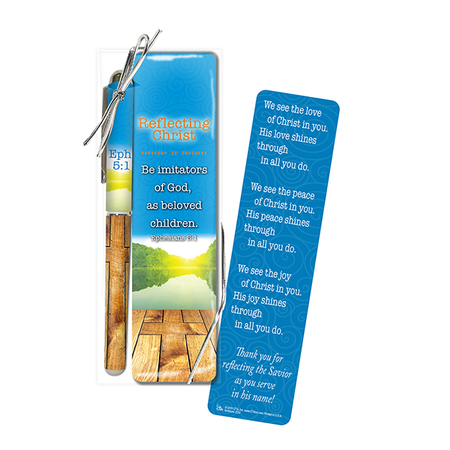 Reflect Christ, Pen and Bookmark Gift Set
Bookmark and pen gift set based on an encouraging Bible verse whic reads: Be imitators of God, as beloved children Ephesians 5:1. Pen and bookmark come packaged.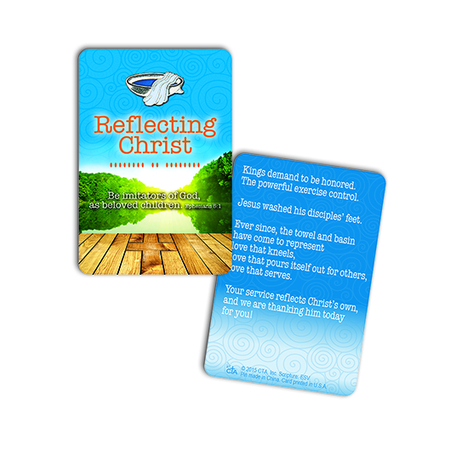 Reflecting Jesus Pin on Gift Card
Lapel pin of a wash bowl and towel  which serves as reminder that Jesus was a servant. Card is printed with the  Bible verse from Ephesians 5:1.
Check out these other religious gift Ideas