Are you looking for Christian gifts for dad or your father? Dads are the spiritual leader of the family, and play an important role in teaching the will and world of God to his family!
Christian dads and fathers may struggle with finding his way and needs prayers, encouragement, guidance, wisdom, and the strength of other Godly men in his life.
Sometimes Christian fathers are not sure where to start to raise a Godly family. Help dad on his spiritual family journey and pray for him along the way. A Godly wife will walk beside him offering encouraging words and prayers.
God desires for every father to Courageously step up and do whatever it takes to be involved in the lives of His children!
Courageous living is calling for the heart of the father, calling him to Christ as he seeks to be a better dad. As churches and individuals have done with other Sherwood pictures, this movie provides a great opportunity to reach out to friends, neighbors, and co-workers!

Man Of God Cap & Christian Father T-shirt Set
There are many ways you can encourage a Christian dad, or husband, on his spiritual path and this page will help you find some Christian gifts and religious resources for the father in your life.
Some gift ideas to give a Christian dad for Father's Day, birthdays, and special occasions include: art, cards, caps, figures, jewelry, pictures, T-shirts, tools, and more!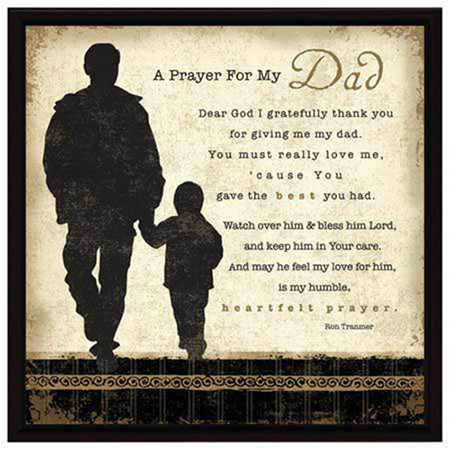 Prayer for My Dad Picture
This plaque has a picture of a father walking hand-in-hand with a child and also this prayer which says:
Dear God, I gratefully thank
you for giving me my dad.
You must really love me,
cause you gave the best you had.
Watch over him and bless him Lord,
and keep him in Your care.
And may he feel my love for him,
is my humble, heartfelt prayer.
Christian Father's Day Gift Set

Religious Father's Day Gift Set w/Bag
Give this inspirational, and practical, gift set to dad on Father's Day and honor him with words of love and appreciation for who they are and for the godly example they are to you and to others.
Father's Day gift set includes:
Man of Faith Christian Journal – Handsome brown Christian men's journal with 192 lined pages, Scripture quotes on every page, printed with this Bible verse on the cover:
A faithful man will be richly blessed.
Proverbs 28:20
Trophy Dad Travel Mug – Handsome travel mug for dad printed with the Bible verse:
I thank God for you.
II Timothy 1:3
Dad Gift Bag with Tissue
Christian Father's Day Coffee Mug

Christian Dad Mug and Coaster Gift Set
Gift your father this handsome coffee mug with a matching coaster. Christian coffee mug has this Scripture quote:
I have chosen him, that he may charge his children and his household after him to keep the way of the Lord. Genesis 18:19
The word of God right in sight with
every sip of his favorite drink.
Dad guidance, support and love.

Happy Father's Day Coloring Page
At the Last Supper, Jesus shows he is humble servant and came to serve by washing the feet of the Disciples. This figure is by Josephs' Studio and a lovely home accent as a reminder of this act of servant hood Jesus demonstrated.
This is my favorite servant message quote from Jesus Christ:
Now that I, your Lord and Teacher,
have washed your feet,
you can also wash one another's feet.

I have set you an example that you should
do as I have done for you.
John 13:14-15
NIV
Christian Gift Ideas for Dads

Jesus Washes Feet of Disciples Sculpture
This stunning Christian sculpture comes in 2 sizes and portrays Jesus as the humble servant as He washes the feet of one of His disciples. This bronze tone sculpture has a plaque is engraved with this Scripture quote:
The Servant of All
If anyone wants to be first,
he must be the very least and the servant of all.
Mark 9:35

Christian Sword Letter Opener
Sword style letter opener with an ornate handle that is paired with this Scripture quote on the blade:
For the Word of God is living and
active sharper than any double-edged sword.
Hebrews 4:12.
Christian Jewelry and Boxes for Men

Shield of Faith Men's Pendant
Christian shield of faith with a Cross accent has this Bible verse on the other side:
Pendant is made from stainless steel and comes on a black cord with stainless steel clasp.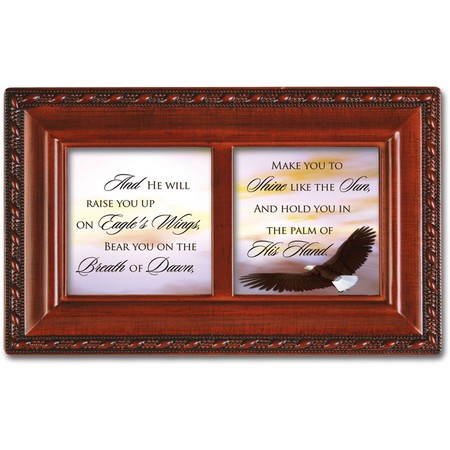 Eagle's Wings Christian Musical Jewelry Box for Men
The lid has this Scripture quote:
And he will raise you up on eagle's wings,
bear you on the breath of dawn,
make you to shine like the sun,
and hold you in the palm of his hand.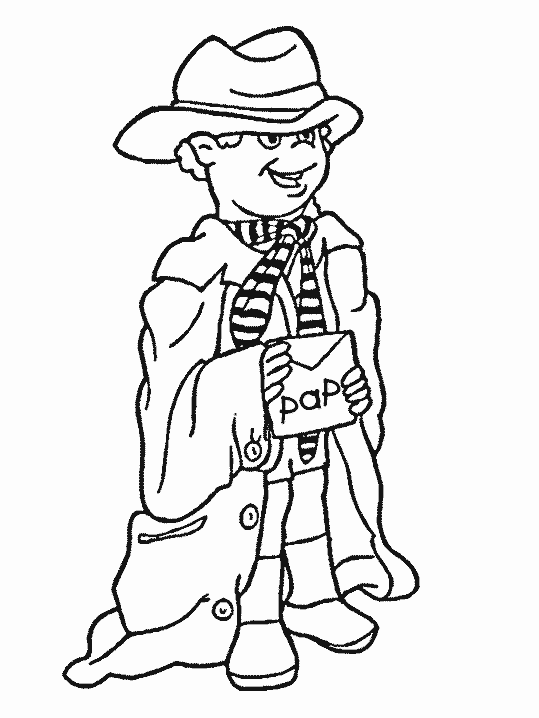 Boy Giving Dad Card in Dad's Clothing Coloring Page
Budget Religious Father's Day Novelty Gift Ideas

Fathers Of Faith Lead By Example Gift Boxed Screwdriver
A handy multi-purpose tool for dad that is a flashlight, with 3 screwdriver bits store inside the handle, and a ring for keys, gift boxed in a pillow box with an illustration of a dad walking with his son on the beach and printed with the quote:
Fathers of Faith lead by example

Blessed Is The Father Die-Cut Bookmark
Beautiful die-cut Cross bookmark for dad printed with these 3 quotes:
Blessed is the Father who finds His strength in the Lord.
The Lord is my light and my salvation:
whom shall I fear?
The Lord is the strength of my life:
of whom shall I be afraid?
Psalm 27:1

Christian Father Boxed Mini Tire Gauge and Key Tag
Christian Father's Day Cards and More

Religious Father's Day Cards 3-Pack
Bless your dad with this fun Father's Day for men of faith! The card has a father, and son, jumping off a dock and printed with Scripture quote inside that reads:
The good man brings good things
out of the good stored up in his heart.
Luke 6:45

Man of Faith Cross Father's Day Bookmarks 25-Pack
Cross-shaped bookmarks make a wonderful Father's Day card idea and each bookmark has an illustration of a father and child playing in water, and printed with this Scripture verse from the King James Bible version:
A faithful man shall
abound with blessings.
Proverbs 28:20


Religious Card for Dad
This religious card for Father's Day has dad kneeling in prayer beside a bed with his young children and printed with this Scripture quote:
Like a Father with his own children,
we encouraged, comforted,
and implored each one of
you to walk worthy of God.
1 Thessalonians 2:11-12.
Check out these other religious gift Ideas