Probably the most familiar Christian gifts for men is the lion art based on the hit Christian movie, Courageous. Not only are Courageous gifts handsome, they are a bold reminder to stand firm and a great gift for man of faith.
Christian men need encouragement and most men need to be reminded that getting on their knees to pray, does not make them weak, but strong!
Encourage, inspire, and uplift the Christian men in your life with a religious gift.
In addition, there are many more Christian gifts for men to see like the handsome collection of Man of God gifts which includes: coffee mugs, Crosses, jewelry, pen, and also a matching key chain gift set.

Praying Man Figurine
Hand-painted figurine of a man kneeling in prayer with an open Holy Bible and the base has engraved plaque with a Scripture verse from Jeremiah 29:13.
Praying Man Figurine

Praying Man Bronze Figurine
This sculpture portrays a man studying the word of God. It is made of hand-cast resin with bronze tone finish on smooth black wooden base with felt lining; bronze tone plaque is inscribed with Scripture from Psalm 105:3-5.
Strong and Courageous Gifts for Men
>

Christian Magnet Lion Be Strong and Courageous
Magnet has a bold lion graphic and printed with this encouraging Bible verse which is from Joshua 1:9.



Strong and Courageous Cross for Men
Handsome, rustic wall cross with a lion graphic, printed with this inspirational Bible verse for men which is also from Joshua 1:9.
Christian Gifts for Men

Be Strong and Courageous Block
Unique Christian decorative block accent for men which can can be displayed on a desk. The decorative block is also engraved with a variety of encouraging Bible quotes.

Bible and Sword Word of God Box
This box is made of dark wood and on the top is a graphic of an open Bible, sword, and the following Scripture quote:
The Word of God is living and active,
sharper than any double-edged sword.
Hebrews 4:12.
On Wings of Eagles Gifts


Printable Eagles Wings Religious Art Card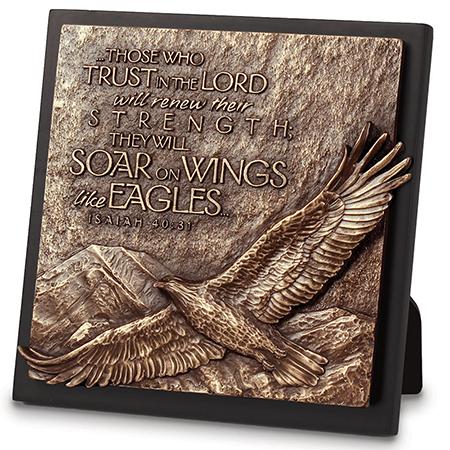 Eagle Sculpture Bronze-Tone Plaque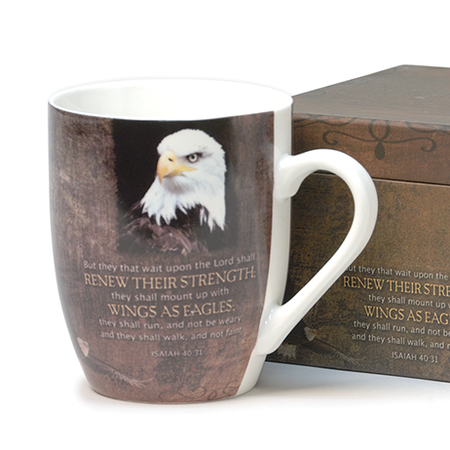 Isaiah Scripture Eagle Boxed Gift Mug
Handsome gift mug for men with an eagle graphic and also printed with the Scripture quote:
But they that wait upon the Lord shall renew their strength;
they shall mount up with wings as eagles; they shall run, and
not be weary; and they shall walk, and not faint.
Isaiah 40:31.

On Eagles Wings Music Box


Wait Upon the Lord Eagle T-shirt

Leather Eagles Wings Wallet

Religious Eagle Figurine
Handsome eagle figure is presented on a rock base which is engraved with Isaiah 40:31.
Full Armor of God Gifts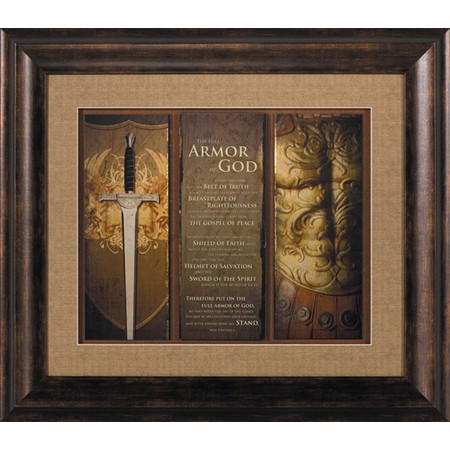 Full Armor Of God – Framed Christian Art
Framed Christian art has a sword, shield, and breastplate in a shadowbox design.

Full Armor of God Figure
This figure is a great gift for a Christian man and a great reminder of what God has provided for his protection against enemy of this world.
Everlasting God by Lincoln Brewster
Courageous Movie Clip
Check out these other religious gift Ideas