Christian Gifts for Teens
Looking for a unique Christian gifts for teens, youth, and young Christians? Christian teenagers like the same type of gifts that secular kids their age like, but they prefer gifts that reflects their faith!
Religious gifts for teens on this page are modern, edgy designs teens prefer, but with a Christian message. Christian products for teenagers will take the classic Bible message but add relevant quotes which youth prefer.
Also, teens will love the Christian iPad and tablet cases, laptop skins, jewelry, and fun giveaways which are great for Youth Group parties.
Teen Bibles also have the edgy and trendy covers teens like, with extra content to help them gain a deeper understanding of the God whom they serve!

Faith Hunter Baseball Caps for Teens
Set of 12 Christian baseball caps in the Faith Hunter design. Christian baseball caps are great gifts for teenagers and each cap has either a religious sentiment or symbol. Faith Hunter baseball caps make great a giveaway for youth or teens and one size fits most.
Christian Hunter Gifts for Teens

Christian Camouflage Drawstring Bags 12-Pack
Cool religious drawstring bags printed with Faith Hunter Scripture quotes, as well, as Cross symbols.

Faith Hunter Ornament Crafts
Faith Hunter Christian ornament craft has a cross with an antler border. Cross has the word, truth, in the center. Each ornament comes with a gift tag printed with a Bible quote which reads: Seek His Truth. John 14:6.
Religious Gifts for Teens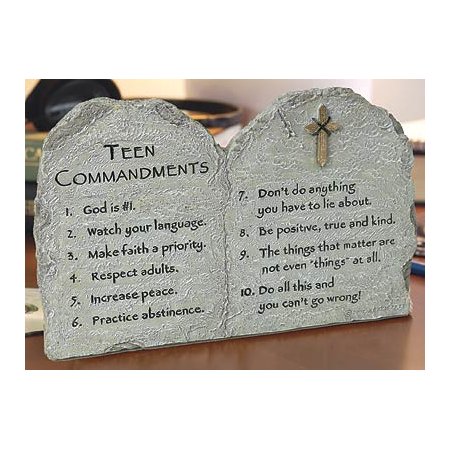 Teen Commandments Tablets – Plaque
A unique way to help a teenager stay on track with God! This plaque looks like the tablets Moses received from God and has a Cross accent!

Campus Crusade Group
Photo by Upper Midwest.

Army of Lord Christian Youth T-shirt

Courageous Christian Teens – Book
Based on the popular Christian movie for men, Courageous, comes this material for teens! This Christian material will work best for smaller groups and the material includes: Courageous Faith, Courageous Leadership, Courageous Priorities, and Courageous Influence.
Bibles for Teens

NIV Teen Study Holy Bible
Best-selling NIV Teen Study Bible and is filled with study tools to help teen's learn more about God, the Bible, and how God's Word relates to their lives.
Christian Novelty Gifts for Teens

Religious Tween/Teen Dog Tags 12-Pack Necklaces
Necklaces are a cool way for youth to show they are a Christian.

Armor of God Sentiment Gift Coin
This is just one style of these cool keepsake coins to inspire a teen or special person. Antique bronze pocket coin has a design of a knight with the 6 pieces of the "Armor of God". On the back is the full text from Ephesians 6:10-12. Each coin comes packaged with a detailed header card. Minted in the USA. A great gift for Christian teens and youth!

Christ the Hope and Anchor Pocket Token
Pocket token is an affordable Christian giveaway for youth with Cross and anchor design and comes on gift card with this Bible verse which reads:
We have this hope as an anchor for the soul,
firm and secure.
Hebrews 6:19.
my haven in every storm.
Though winds of trouble blow and
waves of worry crash all around,
Christ will never fail me.
My feeling may change, my confidence
may wan, or grow, but I rest secure
Christ, my Savior, my anchor, will hold!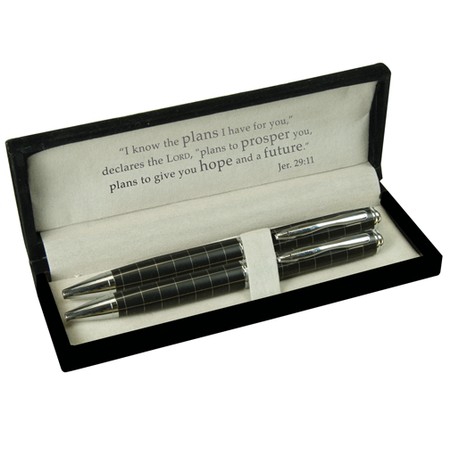 Jeremiah 29:11 Pen and Pencil Gift Set
This set comes presented in elegant gift box with foil stamped Scripture verse inside
I know the plans I have for you
declares the Lord,
plans to prosper you,
plans to give you hope and a future.
Jer. 29:11.
Christian Tech Covers Gifts for Teens

You Need Jesus, iPad 2 and New iPad Case
Protect your iPad with this cool Christian case cover protects your device with trend art graphics and a sentiment that reads:
You need Jesus. I'm just saying.

Born Again Red Galaxy 3 Case Cover
Carry a Samsung Galaxy and share the faith with this cool cover with modern graphics which says:
Born again.
I didn't turn out
right the first time.
John 3.
Check out these other religious gift Ideas