Christian Graduation Gifts
As your graduate embarks on the next stage of life, bless him, or her, with a keepsake to remind them that the Lord is always with them. Graduation is a time of honoring this important milestone of moving on to the stage of life and one these Christian graduation gifts will be blessing to the receiver.
Whether your graduation is moving on to college, Middle school, grade school, or moving to a new class in Sunday school, each of these life stages are equally important.
Bless, honor, and acknowledge the graduate with a religious gift that shares a bit wisdom from you, but a lot of wisdom from the Lord.
Christian graduation gifts showcased include: figurines, decorative cross, home accents, jewelry, key chains, musical jewelry box, picture frame, plush bears, T-shirt, survival Bible gift set, and more.

Religious Graduate Photo Frame, Mug, Necklace Gift Set
Bless the graduate with this Christian gift set which includes:
Inspirational picture frame and mug printed with the quotes:
Your adventure awaits, as well as,
God has more in store for
you than you can even imagine.
Ephesians 3:20.
Christian Graduation Gifts
Adventure Awaits Religious Graduate Gift Set
Your Adventure Awaits Christian graduate gift set will be a blessing to the youth who receives it and includes:
Modern nail cross necklace, coffee mug, and keepsake box printed with the Scripture quote:
Ephesians 3:20.


Laser Engraved Graduation Cross

Christian Graduate Picture Frame
Pewter color picture framed engraved with inspirational quotes, as well as, a Bible verse.

Christian Graduation Owl Figurine
Whimsical Christian graduation owl figurine gift idea for any age! The owl is holding a sign printed with the Bible verse:
Commit to the Lord whatever
you do and your plans will succeed.

Proverbs 16:3.

Religious Graduation Necklace
Pewter dog tag pendant comes on a 20″ stainless steel chain. The pendant is engraved with cross motif and presented in black velvet-like fabric gift box, which has insert with verse from Jeremiah 29:11.

Graduation Ceremony
Attribution: Carine06.

Boxed Modern Religious Graduation Key Ring
Key holder arrives in a silver tone keepsake tin with lid.

Christian Graduation Keepsake Box
Box has a graduation hat, personalized with a name, and printed with this Scripture quote:
Believe in yourself.
All things are possible
if you believe.
Mark 9:23.

Congratulations Religious Graduate Music Box
Elegant music box with a cross graphic along with a graduation cap, printed with this verse:
For I know the plans
I have for you,
says the Lord,
plans for good and
not evil to give
you a future and hope.
Jeremiah 29:11.
When the music box is wound up and opened it plays the graduation tune.

Religious Graduation Bracelet with Mortarboard Box

MAB Graduates
Attribution: Arthur Grigoryan.
Religious Graduation Gift Ideas

2017 Custom Religious Graduation Throw Blanket
Religious graduation throw for the class of 2017 is printed with a Bible verse.



2017 Religious Graduate Tee Shirt
Class of 2017 collegiate style teal-blue T-shirt printed with the Bible verse:
Study to show thyself
approved unto God,
rightly dividing
the word of truth.
2 Timothy 2:15.

2017 Christian Graduate Pen Key Ring Gift Set



Christian 2017 Graduate Travel Mug
Christian Graduation Cards


Boxed Christian Graduation Cards

12 Religious Graduation Greeting Cards Boxed
Boxed set of 12 religious graduation greeting cards, one just right for that special graduate! Graduation cards have heartfelt blessings, words of congratulations, and an inspiring Bible verse.

Christian Graduation Card for Kids
Whimsical n Christian graduate card for children with a wise owl on the graduation stage, as a boy, and girl, mouse walk upstage to receive their diploma. Also the card has this sentiment: Hooray.
Inside the greeting card is the wonderful Bible verse:
God has given us these times of joy.
Psalm 81:4.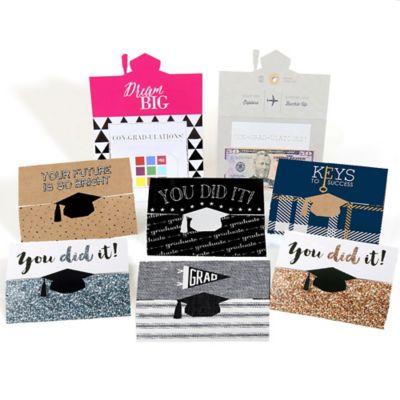 8 Graduation Money Holders
Inspirational Graduation Books

Graduation Prayers, Promises and Inspiration Gift Book


199 Bible Verses for Graduates Book
Handy book for graduates that contains 199 Bible verses meant to inspire and encourage theme, with 127 pages, which can slip into either a school bag, or backpack.
Christian Graduation Plush for Kids

Religious Plush Graduation Bears 12-Pack
Cute plush graduation teddy bears make a great gift idea for kids! Teddy bears come in vivid colors, wearing a graduate cap, also each bear has an embroidered cross on his tummy.


Precious Moments Plush Kangaroo with Gift Card Holder


Christian Graduation Party Supplies


12 Religious Graduate Gift Bags
Remind each graduate that God has great plans for their future with these religious gift bags which come in a set of 12.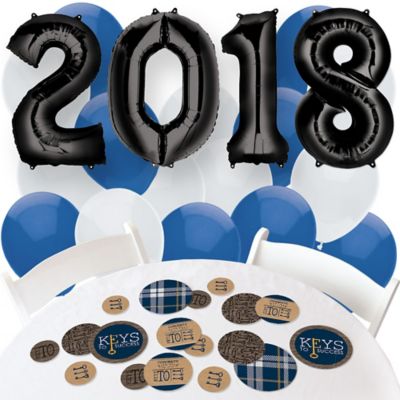 2017 Graduation Balloons & Table Decorations Combo Kit

Peanuts Graduation Party Theme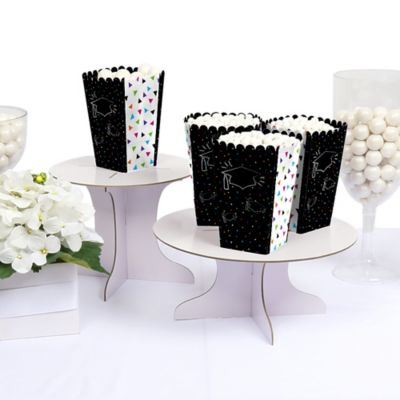 Personalized Graduation Popcorn Boxes
Christian Graduation Gift Ideas for all Ages
Cash – is always welcome gift for any age! Give according the age and your budget. Younger children (Sunday school age) will even appreciate a dollar. Older graduates will appreciate twenty dollars. Remember, to never mail cash.
Goody bag or care package – If your graduate is heading off to college, consider gifting a care package filled with health-care items. While healthy snacks will be appreciated, goody bags with healthy snacks will be appreciated for all ages.
Gift cards – for college age grads gas cards, restaurant cards, or drug store gift cards will come in handy. Sunday school age children will like gift card to a pop corn store. While an ice cream store gift card, will be a real treat for all ages to receive!
Check out these other religious gift Ideas