Christian Jewelry for Men
Fine Christian jewelry for men which are affordable and also can be worn everyday. Like women, men of faith want jewelry which reflects the Christian lifestyle.
Find an assortment of handsome Christian fashion jewelry for men like: bracelets, necklaces, rings, and also watches.
Christian jewelry for men will make a wonderful gift for many occasions and holidays.

Armor Of God Shield Necklace Pendant
Full Armor of God pendant for men is a great piece of jewelry and arrives in a gift box. Armor of God necklace made in the shape of a shield with an engraved cross. On the back of the pendant is an engraved relevant Bible verse which says:
Put on the full
armor of God,
so that you
can take a
stand against the
schemes of the devil.
Ephesians 6:11
Christian Bracelet for Men

Personalized Leather & Steel Cross Bracelet
Christian Watch for Men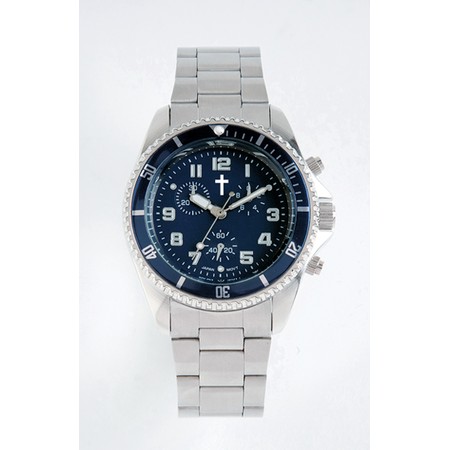 Watch with Cross Accent for Men
Handsome Christian watch for men with a blue dial, with a cross accent. Watch has a brushed silver tone strap with clasp, and chronograph details.
Christian Rings for Men

Faith Can Move Mountains Men's Diamond Ring
Contemporary religious ring for men with a raise mountain scene and a real diamond gemstone. Inside the band is an engraved sentiment which reads:
Faith can move mountains.


Celtic Stainless Steel Ring for Men
Religious Celtic knot ring for him is a symbol of no beginning or end. This handsome Celtic knot ring is made of stainless-steel with ion-plated 24K gold accents. Inside the ring he will find this engraved Irish blessing that reads:
May the road rise to meet you.


Lords Prayer Stainless Steel Ring
Men's stainless steel ring inscribed with the Lord's Prayer with a cross accent.
Christian Jewelry For Men – Necklaces


Celtic Cross Pendant Necklace for Men
Handsome Celtic necklace can which be worn by almost anyone. Cross pendant has the Celtic knot work design and the backside is this engraved with this Irish blessing:
May the Road Rise Up to Meet You.

Cross and Shield Diamond Necklace for Men
Handsome Christian necklace for men is made in the shape of a shield and has a raised gold-tone Cross with a diamond accent. On the back of the pendant is an engraved Bible verse which reads:
Be Strong in the Lord,
for His Power is Mighty.
Ephesians 6:10.
Protection & Strength For My Son Jewelry

Protection And Strength For My Son Pendant Necklace
As you watch your son grow with the guiding presence of faith over the years, this pendant serves as a reminder that God is always there to protect him and give him strength.


Protect & Give Strength Son Leather and Cross Bracelet
Gift a son can a bracelet which serves as powerful reminder that God is always with him to protect and offer strength. Christian bracelet has a leather band and a Diamond-shaped cross accent with a genuine black sapphire.
The back of the bracelet centerpiece and engraved with a prayer which reads:
My Dear Son, May God always protect you and give you strength.


Son Protection Strength Christian Watch
Stainless steel watch with a face which has a cross accent and black border.
Check out these other religious gift Ideas