Christian Jewelry for Women
Share a heartfelt gift for that special woman of faith, with an inspiring piece of Christian jewelry for women.
As each holiday approaches, the television is filled with jewelry commercials geared towards men, as most jewelry suppliers know that men want to give a special gift to a loved one.
Christian women appreciate jewelry as a fashion accessory. Only Christian women want to wear a piece of jewelry which is a reflection of their faith and love of the Lord.
Religious jewelry for women come in many styles and prices. Many of the pieces can be worn either with a casual outfit or to work.
If you are looking for one piece of jewelry women can wear everyday, consider a lovely Christian ring. Many religious rings can be engraved. An engraved ring is truly a personal gift idea, which also speaks from the heart.
Christian bracelets for women, also make a wonderful fashion accessory, and can be changed with every outfit.
Christian cross necklaces also a wonderful gift idea for women of all ages. Cross necklaces come in a so many styles, one for every budget. Sideways crosses are the modern piece of Christian jewelry many younger women appreciate and can be worn to school, work, and even special events.

Cubic Zirconia Gold Tone Cross Journey Necklace
Gold plated cross necklace with a row of Cubic Zirconia gemstones down the center comes presented in a lovely gift box with an insert printed with this sentiment:
Life is a journey, a gift from
above that starts out in faith and
begins with God's love.
A journey of hope that
grows stronger with time,
facing new valleys and
mountains to climb.
Life is a journey,
a walk with the
One who loves so much that
He gave up His Son.
With Christ on this
journey there will not be a
day love does not grow
stronger each step of the way.
Cross Diamond Necklace for Women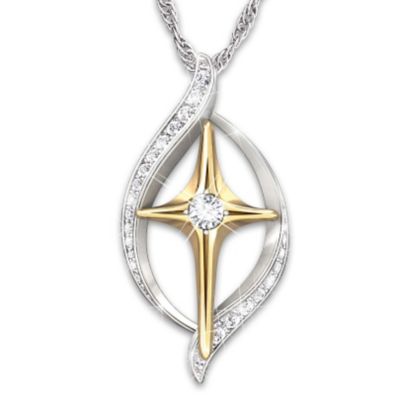 Diamond Cross Christian Pendant Necklace for Women
Now, Faith is believing that all things are possible and this cross pendant will share that message with the women who wears it. The cross pendant is housed in a drop piece, with CZ stones, and in the center of the cross a real diamond.
Christian Charm Necklace Set


Religious Charm Necklaces
Modern Christian silver tone necklace comes in 3 designs. Charm necklaces come in a cross, heart, and also the tree of life design.
Necklace has a large main charm with several smaller charms, and beads on each side, as well as, a matching charm extender.
Prayer Box Cross Necklace for Women


Cross Prayer Box Pendant Necklace for Her
Unique cross accent prayer box pendant, which is similar to a locket, to write down small prayers on a piece of paper. Each cross prayer locket box, comes in a jewelry box with in an insert printed with this Scripture verse:
Do not be anxious for anything, but in every situation,
by prayer and petition, with thanksgiving,
present your request to God.

And the peace of God,
which transcends all understanding,
will guard your hearts and minds in
Christ Jesus.
Philippians 4:6-7
Christian Daughter Jewelry


Daughter Faith Heart Diamond Necklace
Let your daughter know how much she means to you when you gift her this Heart-shaped pendant with an engraved cross accent, along with a genuine diamond in the center, and the backside is engraved with this sentiment:
My Daughter,
May the Lord Bless
and Keep You.
with all your heart.

Christian Daughter Diamond Cross Leather Band Bracelet
A genuine braided leather bracelet accent with a heart pendant in the center engraved with a gold tone cross that has a genuine diamond stone. On the back of the heart is this engraved message for a daughter:
My Dear Daughter,
May the Lord
Bless and Keep You.

Christian Daughter Faith And Love Diamond Ring
Religious daughter ring to wear as a reminder of the Lord, as well as, to show how much you love her.
Daughter ring has two religious elements, both a heart and cross. In addition to the symbols, the ring has genuine diamond gemstone and also the band engraved with a beloved message:
Trust in the Lord with
All your heart.
Christian Women's Diamond Rings

10k Yellow Gold Lord's Prayer Cross Diamond Ring for Women
Lord's Prayer ring for women! Ring is made of 10-karat yellow gold, with a raised sideways cross in the center, surround by 2 rows of genuine diamonds!


Faith Engraved Christian Diamond Women's Ring
Faith brings the message of hope to Christians. Celebrate her faith when you gift this sterling silver ring engraved with the word, faith on the outside and the inside of the band is engraved with this sentiment:
You'll Never Walk Alone.
Best of all, the Christian ring has genuine diamond sparkles at the center of the word, faith, and 10 more genuine diamonds enhance the band.
Check out these other religious gift Ideas