Elegant Christian party favors make a wonderful small gift, giveaway, as well as, a door prize for any religious event.
These religious party favors will bless anyone who receives one and will be a wonderful reminder of the joyous occasion.
Christian party favors are already gift-boxed, or gift-bagged, saving time wrapping them. Also, many religious party favors can be used as a party decoration.
Christian party favors will work for small gifts for birthday parties, church giveaways, youth group, and other religious celebrations.

Jesus Design Key Chain Favor
This Christian key chain is made in the shape of a fish symbol, with the word, Jesus in the center. Each religious key chain is packaged for giving for any religious event.
Christian Design Party Favors

Small Cross Trinket Box Gift
Practical, as well as, useful, cross trinket box is made of antique silver, with clear rhinestone accents.
Each cross themed box is packaged for giving in a clear box, with a pretty base, and finished with a organza ribbon and also a themed "Thank you" tag.

Angel or Cross Curio Box Party Favors
Trinket boxes make lovely Christian party favors. Choose from the angel, or cross, trinket box design.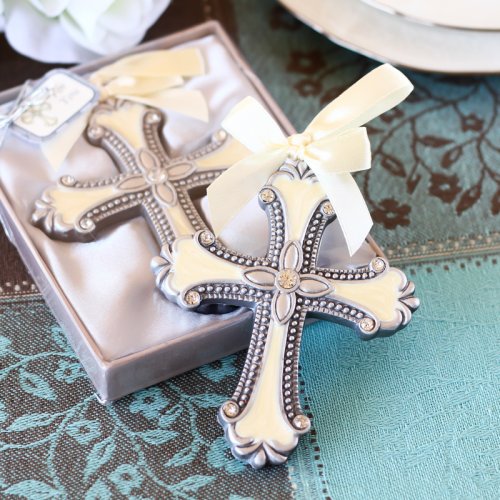 Decorative Cross Ornament Party Favor
Pretty cross ornament with an ivory enamel design and makes a wonderful Christian keepsake gift for a religious celebration.
Religious Bookmark Party Favors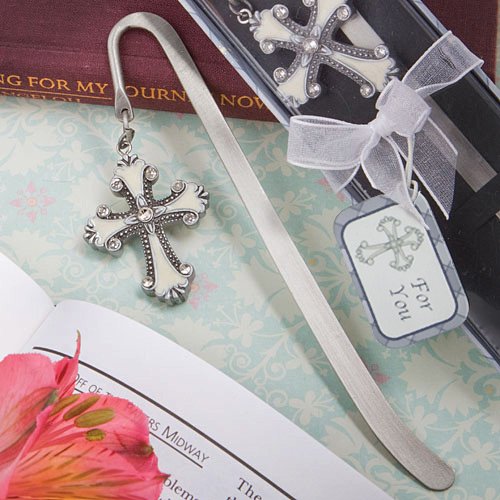 Bible bookmark has a stem with a lovely Ivory-tone cross charm at the end, with rhinestone accents.
Religious Event Giveaways & Favors

Cross Ornament Favor
Poly resin cross design honors the Holy Spirit and nature's bounty. Lovely cross ornament has a center with a dove, the symbol of the Holy Spirit, and the remainder of the cross is adorned with natural elements like: grapes, vines, and also wheat.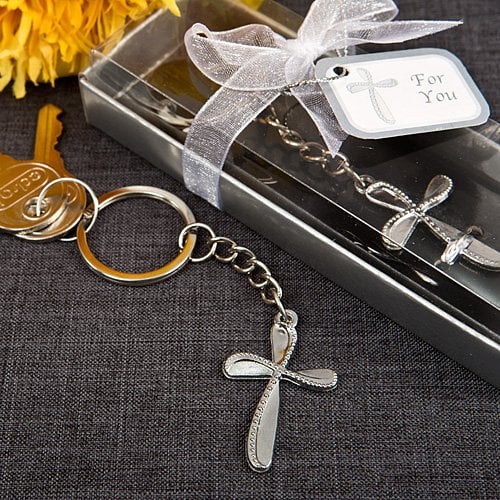 Silver Cross Key Chain Favors
Charm your party guests when you present them this cross key chain as a party favor. Each silver cross key chain comes individually wrapped and ready-to-give.
Check out these other religious gift Ideas