Christian Thanksgiving Greeting Cards
Send blessings and warm sentiments to those who will not be able to attend the Holiday dinner by sending Christian Thanksgiving greeting cards. If members of your family, or close friends, live many miles apart, you can still let them know how much you love them and miss them this year by sending a Christian Thanksgiving card.
These Harvest-inspired greeting cards come in a wonderful assortment, from an individual card to bless a whole family, to boxed Thanksgiving cards with assorted cards, each has an Autumn picture, most have an Christ-centered sentiment, and also a Scripture quote.
Many of these Thanksgiving greeting cards let you upload a favorite photo. Other Thanksgiving cards be personalized on the front and inside with your personal prayer or sentiment.

6 Printable Christian Fall and Thanksgiving Card
This set of 6 printable Thanksgiving and Fall blessing cards are blank inside and the cover designs include the following:
Always Give Thanks with a Grateful Heart
Count Your Blessing
Gobble! Gobble
Happy Thanksgiving
I am Thankful for You
Thanksgiving Wishes
DIY Thanksgiving Bookmarks

Printable Christian Thanksgiving Bookmarks
Instead of a card, gift a religious Thanksgiving book! Set of 5 printable religious Thanksgiving bookmarks will be a wonderful giveaway to anyone attending dinner this year.
Christian Thanksgiving Assorted Cards Set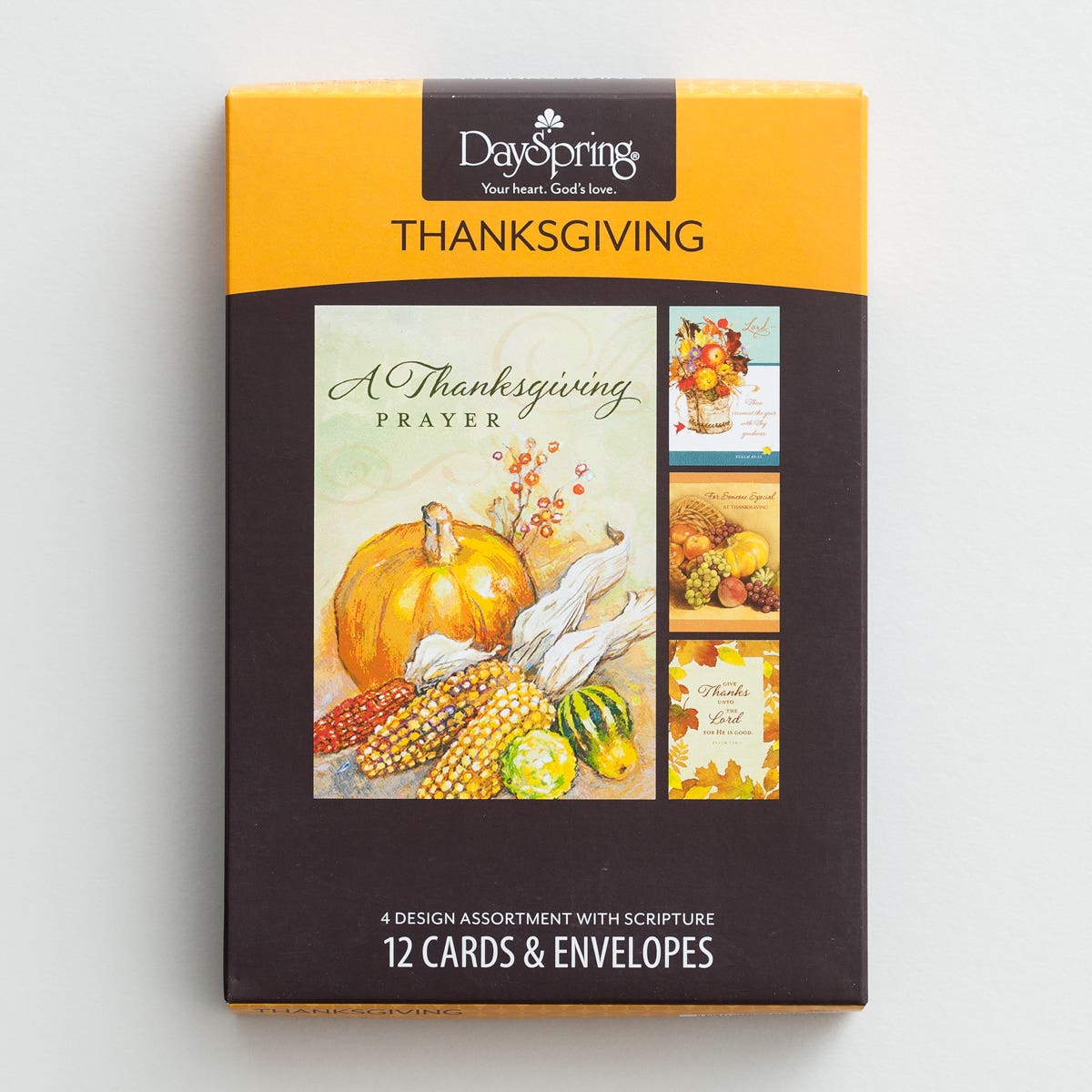 Christian Thanksgiving Cards Boxed Set 12-Pack
Fall-themed religious Thanksgiving cards in a set of 12, 4 designs, 3 of each. Each Thanksgiving card has a lovely illustration, sentiment, Bible verse, and a sample Scripture quote reads:
Give thanks unto the Lord; for He is good.
Psalm 136:1

Thanksgiving Promises Scripture Quote Card
Illustrated card with falling leaves from a tree with a lovely sentiment and Christian Thanksgiving Scripture quotes beside the leaves which read:
I will comfort you.
Isaiah 66:13

I will strengthen you.
Isaiah 41:10.

I will give you peace.
Leviticus 26:6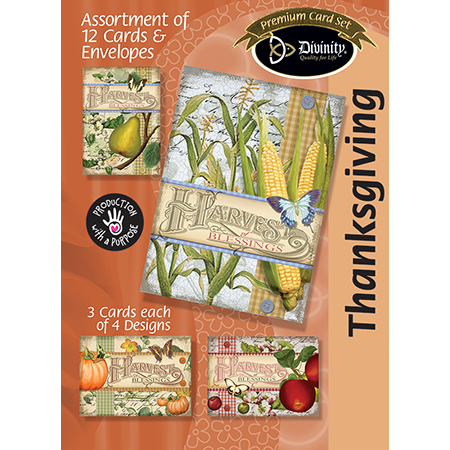 12 Harvest Blessings Cards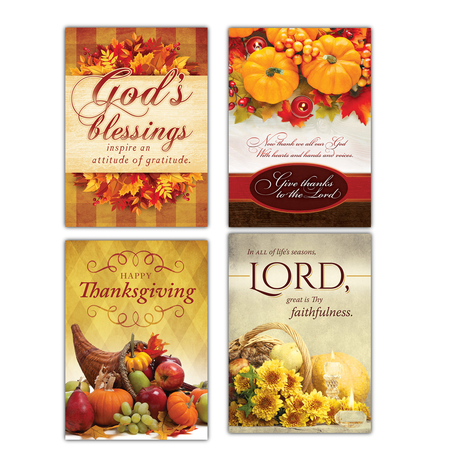 Give Thanks 12 Boxed Greeting Cards
Christian Thanksgiving Greeting Cards

Peanuts Scripture Thanksgiving Card
These Christian thanksgiving card stars the Peanuts Gang and has them sitting around the dinner table with this seasonal Scripture quote and sentiment:
Blessed are the thankful in heart
and the stuffed in belly!
Happy Thanksgiving
Scripture quote:
We have all received one
gracious blessing after another.
John 1:16
Christian Thanksgiving Cards for Kids

Printable Turkey Bible Verse Thanksgiving Card
Give Thanks to the
Lord for He is good;
His love endures forever.
1 Chronicles 16:34
Photo Thanksgiving Greeting Cards

Thankful Photo Thanksgiving Card
Personalized Thanksgiving card with one half a picture and the other half printed with this sentiment:
For all of our blessings and
for you our family and
friends we give thanks.

From Our House to Your House Photo Thanksgiving Card


Fall Blessings Photo Card Template
Check out these other religious gift Ideas