Christian Valentines Day Gifts
Share Christian Valentines Day gifts with messages of love that reflect your faith, shown to you from God and Jesus Christ our Lord.
The best-loved Bible verse about love is from 1 Corinthians 13:4 and reads:
Love is patient,
Love is kind,
it bears all things,
believes all things,
hopes all things,
endures all things,
Love never fails.
The Books of John have many Bible passages about "love" and how the love of God is light, if we follow His words through His Holy Scriptures – we will walk in the light!
If you feel the love shown by Jesus Christ and God, pass on a the love this Valentine's Day with a gift that shares the message of Bible Scriptures and the love shown to anyone who believes that Jesus is the Savior of the world.
Christian Valentines Day Gifts

6-Piece Christian Valentine's Day Gift Set
Fun, and inspirational, Bible-based "love" set that is great gift idea for Valentine's Day, an Anniversary, Newlyweds, or married couple's who want to communicate better.  This gift set is based on the Christian book, The 5 Languages of Love, by author Gary Chapman. The bright, inspirational love gift set comes with 6 pieces to be used all-year long and includes these You + Me gift items:
32 Love notes book
Coupon book
Journal for 2
Jumbo Mug
Sticky Prayers
Gift bag with tissue paper
Sample Bible verse on the red, heart accented jumbo cup reads:
We love because
He first loved us.
I John 4:19.

We love because
He first loved us.
I John 4:19

Couple holding Love Boldly Sign
Love boldly picture courtesy:
Pro Flowers
Religious Valentine's Day Mugs

Christian Valentine Hugs of Love Mug – Philippians 1:7
Give someone special a BIG cup of love this Valentine's Day! Perfect gift for a Christian woman! This mug comes in a gift box, tied with a fabric box, a medallion tag that says:
You are a special gift from God.
This cup comes with hugs and
love from me to you.
and the mug has this Scripture quote:
for you have a special
place in my heart.
Philippians 1:7.

Love of the Lord Themed  Cup and Saucer, Bookmark & Pen Gift Set
Pretty gift set for her with a mug and saucer printed with heart and matching bookmark and pen printed with this Scripture quote:
The steadfast love of
the Lord never ceases.
Lamentations 3:22.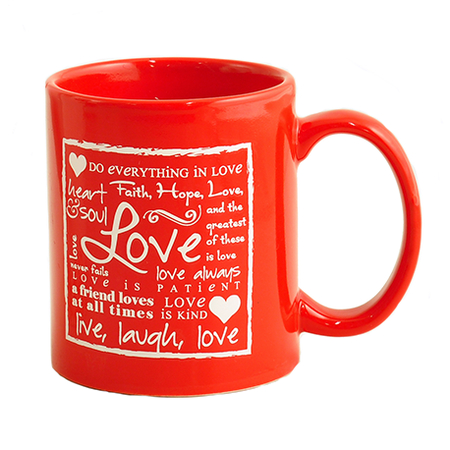 Religious Love Quotes Red Coffee Mug
Christian Valentine's Day coffee mug with love sentiments and Scripture quotes like:
Love
Do everything in love
Faith, Hope, Love and
the greatest of these is love
Heart and soul
Love never fails
A friend loves at all times
Live, laugh, love.
Religious Valentine's Day Tote Bag

Christian Sentiment Valentine Love Red Bag
This reusable red tote bag makes a great gift bag for Valentine's Day gifts and measures 14 inches.
Christian Valentine's Day Figurines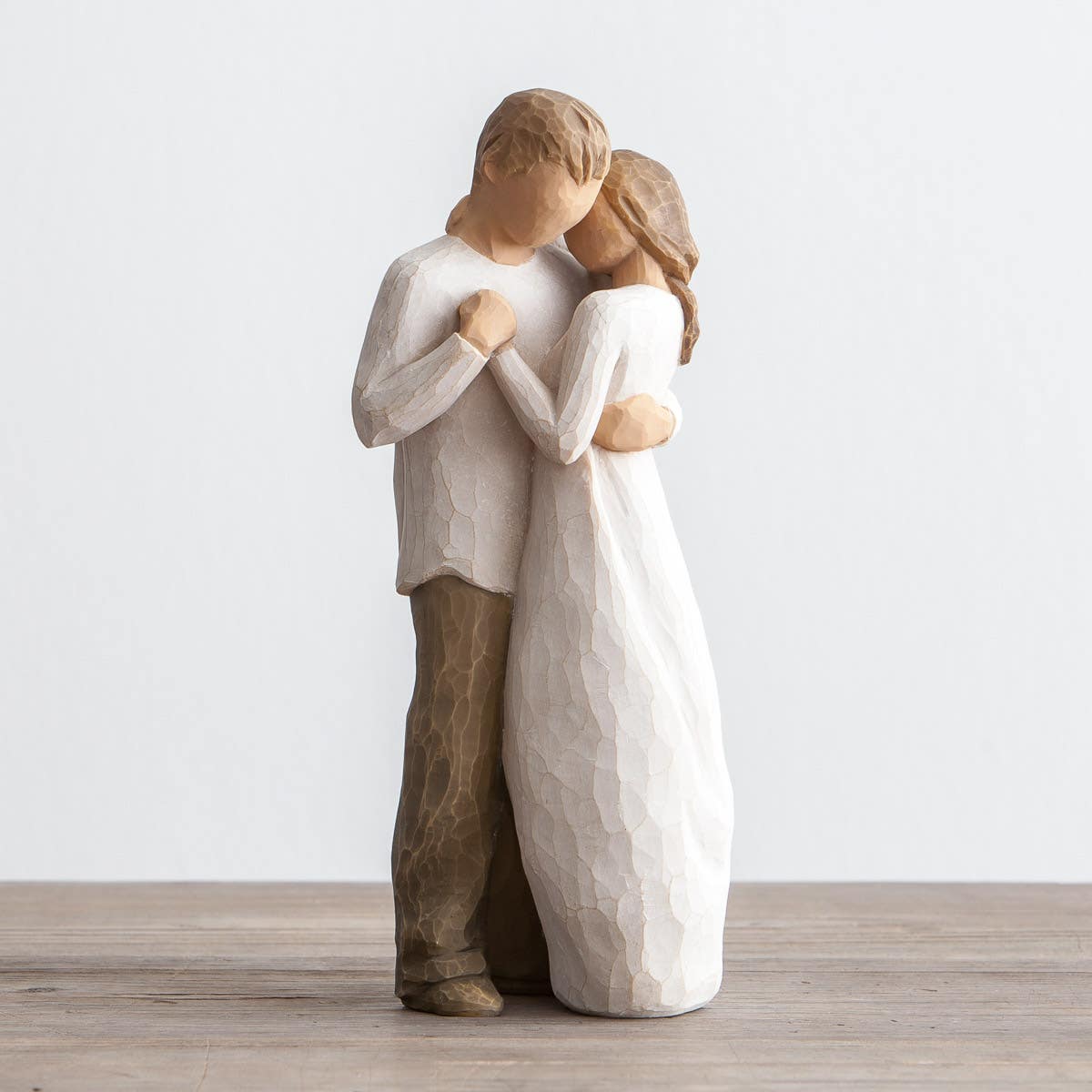 Willow Tree I Love Your Figure
This pretty Will Tree figure has girl holding a heart in hands and comes a gift box.

Religious Romantic Couple Figure by Willow Tree
More Christian Valentine's Day Gift Ideas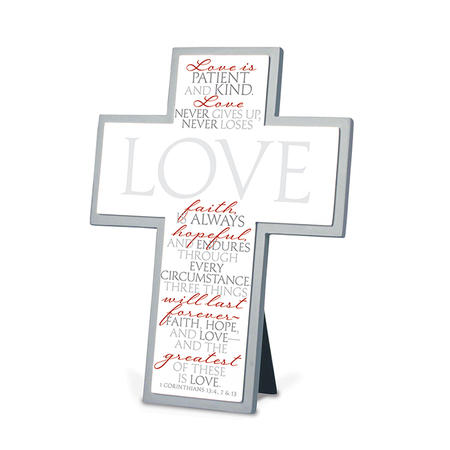 Love It Is Written Cross
Decorative cross with red Scripture quote in stylistic font which reads:
Love is patient and kind.
Love never gives up, never loses.
Faith is always hopeful, and
endures though every circumstance
Three things will last forever
faith, hope, and love and the
greatest of these is love.
1 Corinthians 13:4, 7 and 13.

God's Heart Book and Necklace Gift Set

Religious Valentine's Day Pink Teddy Bear
Pink Valentine teddy bear comes with a powerful reminder of love and a Bible verse printed on a paw! One paw reads: Love and the other paw reads:
I John 4:16.
Christian Valentine's Day T-Shirts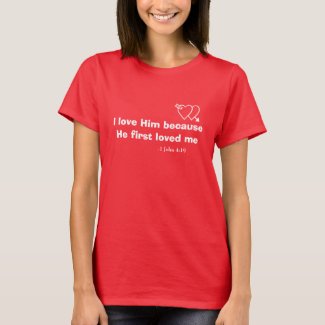 Religious Love T-Shirt
This red T-Shirt reads:
I love Him because
He first love me
1 John 4:19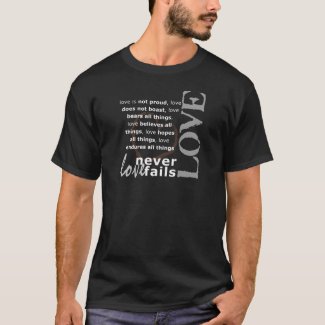 Love Never Fails Bible Verse T-Shirt
This black T-shirt is great for him! The main quote reads: Love Never Fails!
Check out these other religious gift Ideas