Christmas Angel Home Decorations
Because Christmas is no complete without displaying Christmas angels, consider displaying one of these Christmas angel home decorations!
Biblical angels often appear in Christmas stories. From the Angel who appeared to tell Mary she will give birth to a child, to the announcement that a Savior is born in the City of Bethlehem. Finally, on Christmas Eve, amazed shepherds had an Angel appear to them telling them to find the newborn King!
During the month of December, Christians will be singing Christmas hymns about these Angelic, Heavenly Hosts. Like other Christians, I will sign Christmas hymns and two of my 2 favorite Christmas songs about Angels are:
Hark the Herald Angels Sing and Angels We Have Heard on High.
Christmas Angel home decorations will add a look of Heavenly Hosts from the Christmas tree topper, ornaments, and table decorations.
Much as I love many Christmas Bible passages,  two Bible verses about Angels are among my favorite. Probably the most popular angel Scripture quote for Christmas I love  reads:
And suddenly there was with the
Angel a multitude of heavenly host
praising God and saying:
Glory to God in the highest,
And on earth peace,
goodwill toward men!
Luke 2:13-14
NKJV

Noel Angel Digital Holiday Art Print
Christmas Angel Figurines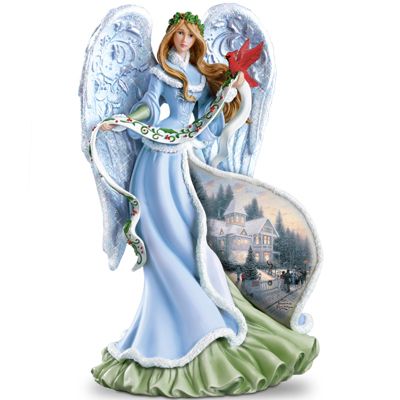 Thomas Kinkade Holiday Angel Figurine
A limited-edition Thomas Kinkade Christmas figurine with lights. Angel is wearing a blue gown, with a Thomas Kinkade Winter scene inside her gown, holding a Cardinal, and wearing a halo of Holly.

Joy to the World African-American Christmas Angel Figurine
African-American Christmas angel figure is wearing a gold-trimmed white gown and holding a banner printed with an inspiration sentiment which reads: Joy to the World.
Girl Wearing Christmas Angel Costume

Christmas Angel
Photo by Nezemnaya.
Finally, my other favorite Scripture regarding a heavenly angel reads:
Then the angel said to them,
"Do not be afraid, for behold,
I bring you good tidings of great joy
which will be to all people.
For this born to you this day in the
city of David a Savior, who is Christ the Lord.
And this will be the sign to you:
You will find a Babe wrapped in swaddling cloths,
lying in a manger."
Luke 2: 10-12
New King James Version
Musical Christmas Angel Globes

Musical Angel Water Globe
I am delighted to share this year's annual Precious Moments musical angel water globe and received one to review! Not only is this annual angel water globe  beautiful, it plays one of my favorite Christmas tunes: Joy to the World
Inside the globe is a heavenly brown-haired angel figurine, standing on a cloud. Her wings are adorned with silver iridescent glitter, and her gown has silver trim, with more glitter accents.
In addition, the globe has a light b base, with a silver scroll pattern. Also, the base has a centerpiece printed with this lovely quote: In His Perfect Love.
Finally, best of all, when the globe is turned upside down, colored glitter swirls around inside, like a snow globe!
Consider gifting  this annual Precious Moments musical Angel water globe this Christmas to friends and family.

Musical Religious Christmas Angel Musical Snow Glitter Globe
Display this religious Christmas globe almost anywhere in your home. Inside the globe, an Angel figurine plays a musical instrument. The base is detailed with scroll work.
Shake the globe to see glitter fly around and wind up the key to hear the beloved tune:
Hark! The Herald Angels Sing.
Angel Christmas Ornaments

Whimsical Angel Christmas Ornaments
Add these whimsical angel Christmas ornaments to the tree this year.

Lighted Angel Christmas Ornament
Glass Christmas globe with an angel inside. This heavenly spun-glass angel ornament lights up and comes with a battery

Angel Wings Christmas Ornaments
Porcelain angel wings ornaments come carded with this lovely Bible verse which says:
And behold, an angel of the
Lord stood before them,
and the glory of
the Lord shone
around them.
Luke 2:9.
Christmas Angels Cards

Hark the Herald Angels Sing Cards

Angel of Peace Christmas Card
Christmas Angel Stockings


Religious Christmas Angel Christmas Stocking
Perfect for little girls, this Christmas stocking made of felt, with an embroidered angel graphic. In addition, the Christmas stocking has a cuff that can be personalized with a name.

Christmas Angel & Character Personalized Stockings
Free Christmas Angels Coloring Pages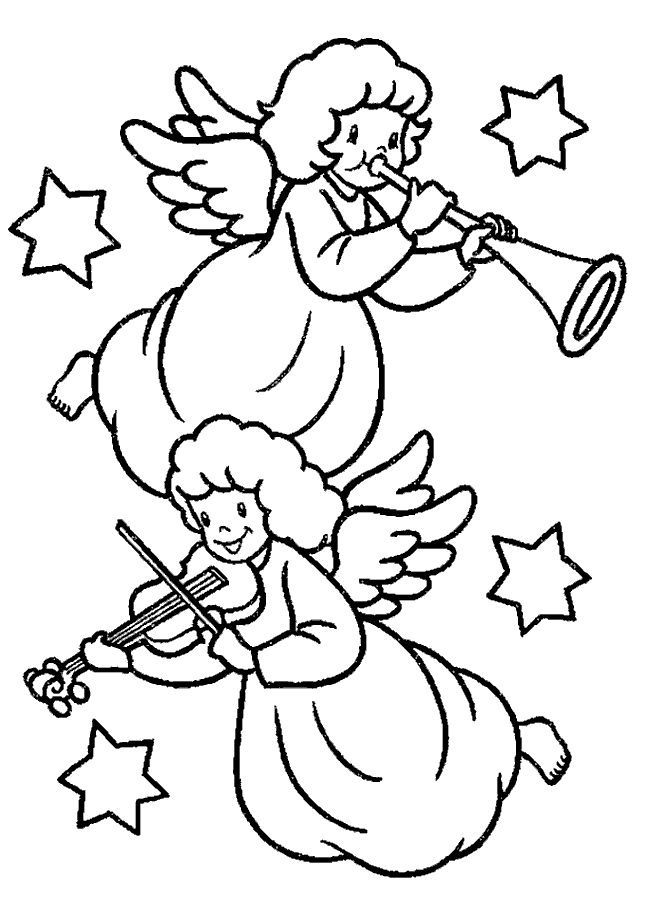 Christmas Angels Rejoicing Coloring Page


Christmas Angels Coloring Page
By Lou Anna.
Check out these other religious gift Ideas