Christmas Nativity Scenes
Christmas Nativity scenes will add to your Religious Christmas home decoration. From an heirloom Nativity set to affordable Nativity scenes, each decoration will display the true meaning and of Christmas.
Nativity scenes depict the stable where Mary gives birth to the Baby Jesus, with Joseph is by her side. Other Biblical Christmas scenes tell about an Angel, shepherds, as well as, 3 Wise Men who carried gifts of Gold, Frankincense, and also Myrrh to honor the newborn King.

Christmas Nativity Set Willow Tree
A lovely hand-painted Holy Family set by Willow Tree is a beautiful Christmas decoration to remember the true meaning of the holiday season.
Children are delighted with the animals who were present during the reading of the Nativity story. Although the Nativity story only mentions a donkey which Mary rode on the long journey to Bethlehem, assume other animals we present, as Jesus was born in a stable and lay in a Manger.
Elegant Christmas Nativity Scenes and Sets

Pillars of Heaven Nativity Set
Modern Nativity set has pillars carved and embellishments. Nativity pieces include: the star, shepherd, angel, three kings, and Holy Family. The back of each Nativity  piece has a different gospels are also inscribed.

Advent Wreath and Candle Set Home Decor
Advent wreath will serve as a reminder of f the coming of Christ, as well as, the true meaning of Christmas. A beautiful Advent Candle holder which folds out to create a backdrop for the pillar candle holder.
Advent candle holder looks like wood and has a pillar candle holder that has 3 wise men bringing gifts to the newborn King, and the wreath holds 4 taper candles.

Shepherds and Angel 3-Piece Christmas Figurines
Nativity figures are so life-like and will add to any Nativity set, or start a new collection with these figures.
Christmas set is a stunning decoration which includes: pair of shepherds and also a stunning angel.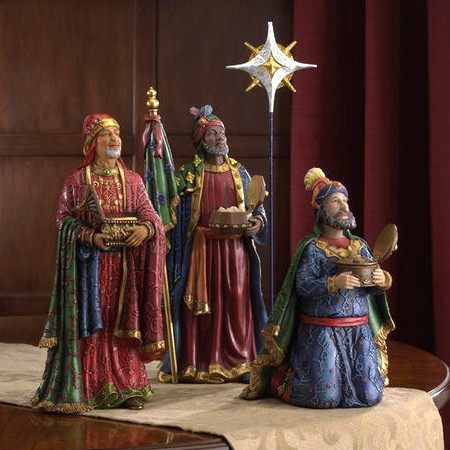 3 Wise Men Figurines
Set of 3 wise men figurines with Melchior, Balthazar, and Caspar with lifelike expressions! Each Wise Man is bearing a gift: real gold, frankincense, and also myrrh.

Beautiful Nativity Decoration
Photo by Raul Hernandez Gonzalez.
More Nativity Home Decorations

Nativity Alphabet Art Print Download


Musical Nativity Christmas Tree Figurine
This Christmas tree has the Nativity scene in the center and also plays the beloved tune: Silent Night.


Angel With Nativity Scene Decoration

Outdoor Manger Scene Yard Decorations

Holy Family Scene Candle holder
Affordable way to add a religious Holiday scene to any home! Nativity candle holder is black with a die-cut silhouette of the Bible story.

Digital Away in a Manger Christmas Art
What Child is This Music Video by Lindsey Stirling
What Child is this,
who, laid to rest,
On Mary's lap is sleeping?
Whom angels greet
with anthems sweet,
While shepherds watch
are keeping?
This, This is
CHRIST THE KING,
Whom shepherds guard
and angels sing:
HASTE, HASTE
to bring him laud,
THE BABE
the son of Mary.
Check out these other religious gift Ideas