Looking for a new Bible for your studies, for a gift, or to use for evangelism? One of these gift and award Bibles will be used and treasured for years to come.
If you are looking to dive into Scriptures deeper, but need a Bible that answers some questions your may have, try using a study Bible or student Bible.
A daily Bible will help you stay on task with different readings for every day of the year and also a Study Bible is a great gift.
There are so many Bible translations to choose from, (see list below) so pick the language and style which suits different levels of Bible understanding.
Many Bibles are written in language easier to understand: like the New International Version (NIV) or New International Reader's Version (NIrV) for children.
Be sure to choose a Holy Bible  translation which is true to God's Word! The different Bible Translations located below for referencing.

Award and Gift Bible
Economy New International Version Bible in several colors like: blue, brown, burgundy, and white.

Gift Bibles for Men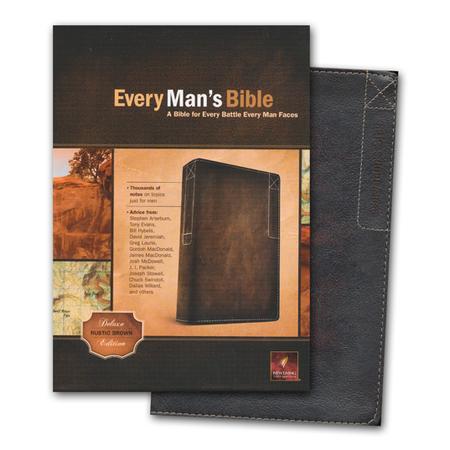 NLT Every Man's Bible – Brown Imitation Leather
This Holy Bible follows the same idea behind the popular, Every Man's Battle, books. This Bible will help men have deep understanding of the Holy Scriptures and to help him understand his unique role God has for him!

NIV Cowboy New Testament
The Way for Cowboys is a New Testament with the Bible books of Psalms and Proverbs. Each New Testament book has the Gospel plan, Cowboy prayer, poetry and testimonials from favorite cowboys like: Grant Adkisson, Stran Smith and Jeff Gore. This New Testament is made in partnership with Fellowship of Christian Cowboys.
Bible Translation Guide
CEV – Contemporary English Version
ESV – English Standard Version
GNT – Good News Translation
GOD'S WORD Translation
HCSB – Holman Christian Standard Bible
KJV – King James Version
NAB – New American Bible
NASB – New American Standard Bible
NCV – New Century Version
NET – New English Translation
NIV – New International Version
NIrV – New International Reader's Version
NJB – New Jerusalem Bible
NKJV – New Kings James Version
NLT – New Living Translation
NRSV – New Revised Standard Version
TM – The Message
TNIV – Today's New International Version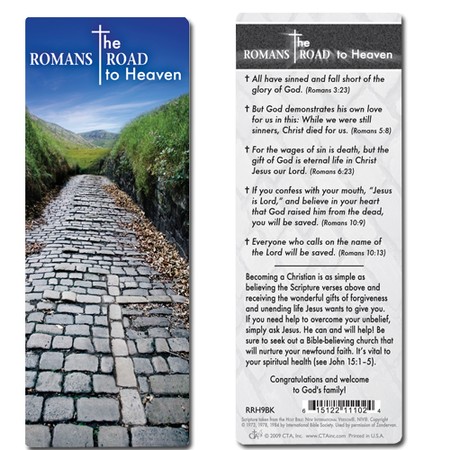 Romans "Road to Heaven Bookmark" NIV
Colorful laminated bookmark features road and hedge design with message Romans Road. The path to salvation on reverse side. Scripture quote from Romans (NIV).
All have sinned and fall short of the glory of God. Romans 3:23

But God demonstrates his own love for us in this;
While we were still sinners, Christ died for us. Romans 5:8
For the wages of sin is death, but the gift of
God is eternal life in Christ Jesus our Lord. Romans 6:23

If you confess with your mouth, "Jesus is Lord," and
believe in your heart that God raised
him from the dead, you will be saved.
Romans 10:9

Everyone who calls on the name of the
Lord will be saved. Romans 10:13
Gift Bibles For Her

American Woman Bible
Award and Gift Bibles for Kids


Red Award & Gift Bible for Kids
Check out these other religious gift Ideas