Happy Birthday Jesus Christmas Party Ideas
Looking for a religious Happy Birthday Jesus Christmas party ideas for home, church, or for Sunday school?
Adults and children will enjoy attending a Happy Birthday Jesus Christmas party! Use the Happy Birthday Jesus party for a church event, Sunday school celebration, or for a neighborhood outreach.
A birthday party for Jesus will keep mind's focused on the real reason for Christmas. Find a large selection of Happy Birthday Jesus party ideas like: activities, giveaways, favors, game prizes, and also party supplies.

Jesus Birthday Party Activity & Coloring Sets
Kids will be thrilled to attend a birthday party where they can decide what they would give the baby Jesus and also sing the newborn King a Happy Birthday song!
DIY Jesus Birthday Party Supplies


Jesus Birthday Party Banner and Cupcake Topper Download
Downloadable Happy Birthday Jesus printable sign and cupcake decorations today! Print out the party supplies on card stock, lace the banner with string, and hang the sign above a Christmas party table. Cupcake topper can be applied to toothpicks or other party supplies.
Happy Birthday Jesus Christmas Party Favors

Birthday Party for Jesus Novelty Party Favor Assortment
Bundle of party favors for a Happy Birthday Jesus event! Religious Christmas party favors for children contains 50 pieces and the favors included are bookmarks, bracelets, coloring books, crayons, erasers, note pads, pencils, puzzles, and a variety of small toys.


Jesus Is Born Nativity Puzzles 12-Pack
Happy Birthday Jesus mini puzzles come boxed in a package of 12.  Mini Nativity scene puzzles make a great Jesus Christmas party favor or stocking gift.

Happy Birthday Jesus Crayon Packs
Set of 24 Happy Birthday Jesus crayons come in packages of 6 classic colors and make a wonderful party prize or giveaways.


Plush Mini Baby Jesus 12-Pack
Mini baby Jesus stuffed toys make a wonderful Christmas giveaway! Baby Jesus plush comes with a tag which has a graphic of Jesus in the manger and also read: Rejoice! Jesus is Born!
Happy Birthday Jesus Christmas Party Supplies

Birthday Party for Jesus Supplies
Christian Christmas party supplies with the Happy Birthday Jesus graphics and also the quote. Happy Birthday Jesus party kit has enough supplies for 8 people which includes: invitations, cups, napkins, and also plates.

Jesus Birthday Christmas Party Cups 12-Pack
Plastic Christmas party cups have the birthday party for Jesus graphic and come in assorted colors.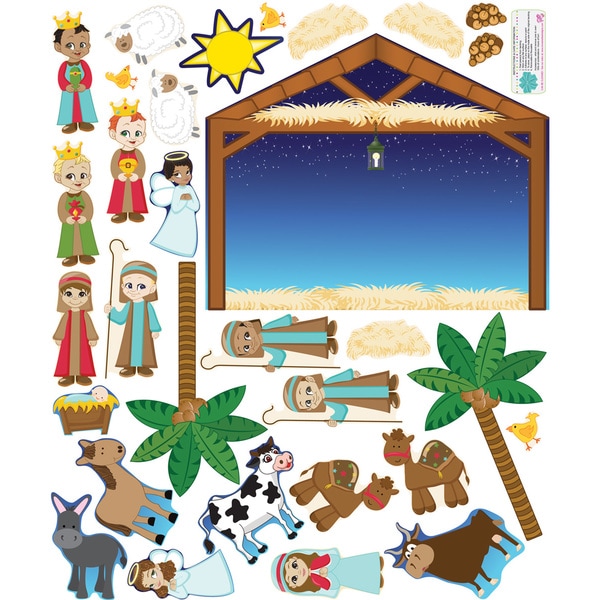 Christmas Nativity Party Scene Setter Wall Decoration
Set the stage for a birthday party for Jesus with this adorable Nativity wall decal set. Nativity scene setter is printed on a fabric adhesive material instead of vinyl pieces.
Kid's Christmas party-wall decorations have children dressed up as the Holy Family, Wise Men, and angels, along with the manger stable, animals, Palm Trees, and more!
Happy Birthday Jesus Christmas Party Crafts

Color a Jesus is Born Christmas  Stocking
Adorable mini Christmas stocking to color with markers. Nativity Christmas stocking has an illustration of Baby Jesus in the manger surrounded by animals.


Baby Jesus Sleeping Ornament Crafts 12-Pack
A wonderful Christmas party craft for kids! Religious Christmas craft for 12 children creates an ornament of baby Jesus sleeping in the manger and printed with an inspirational quote which reads: Sleep in Heavenly Peace.


Jesus Born The King Ornament Crafts 12-Pack
Star-shaped Christmas ornament crafts for kids creates a manger scene of baby Jesus sleeping in the manger with a sheep, and ducks standing in the hay. Also, each Christmas ornament craft has a crown at the top and printed with this religious quote:
Little baby,
so fragile and small,
Born unto us as the King of all.
Christian Christmas Party Gift Bags for Kids


Jesus Is the Heart of Christmas Gift Bags 12-Pack
Celebrate the real reason for the Christmas season with these festive paper gift bags! Christian Christmas party gift bags have a cross design with a heart and also printed with the verse: Jesus is the Heart of Christmas.
Religious Christmas gift bags can be used for wrapping  candy and other treats for kids.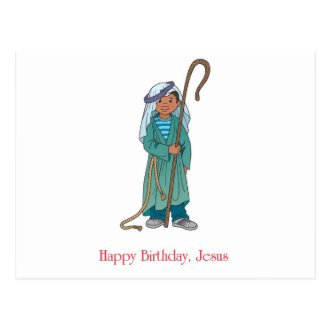 Happy Birthday Jesus Shepherd Card
cinema during your Happy Birthday Jesus party.
More Happy Birthday Jesus Party Supplies
Visit my sister site for more Happy Jesus Birthday party ideas.
Check out these other religious gift Ideas