My first piece of jewelry was given to me by the church I attended as a child was a piece of mustard seed jewelry — a bracelet! I was rewarded the mustard seed bracelet in Sunday school for completing Bible memorizing.
Mustard seed jewelry is often one of the first pieces of Christian jewelry worn and is also one of the popular jewelry gift ideas for women of any age.
A mustard seed may be tiny, but the seed represents a BIG reminder of what Jesus taught. Jesus teaches anyone can move a mountain if they only have a tiny piece of faith, that is size of a mustard seed.
Mustard seed jewelry will be a wonderful piece of Christian fashion jewelry that serves as a visual reminder of the faith and the words from Matthew 17:20 spoken by Christ.

Faith Can Move Mountains Christian Charm Bracelet
Inspirational handmade charm bracelet based on the parable of the Mustard seed.
Mustard Seed Jewelry


Mustard Seed Pendant Earrings Set
Religious necklace and earrings in a cross design with mustard seed's inside. Mustard seed earrings are for pierced ears.

Mustard seeds
Photo by Eugenio Hansen.

Mustard Seed Charm Bracelet
Beauty along with a fashionable piece of Christian jewelry. Since this charm mustard seed bracelet comes on a stretch band, it will fit most wrist sizes!
The bracelet contains gold-tone beads and also a cross charm with a genuine mustard seed in the center. Bracelet is carded with a section of the beloved Bible Jesus quote which is as follows:
If you have faith
as a mustard seed
nothing will be
impossible for you.
Matthew 17:20.
Mustard Seed Necklaces

Faith of a Mustard Seed Necklace
Hand-crafted mustard seed pendant hangs on a 16 inch chain. The necklace comes with a Bible verse card, the gift box, and ready for giving!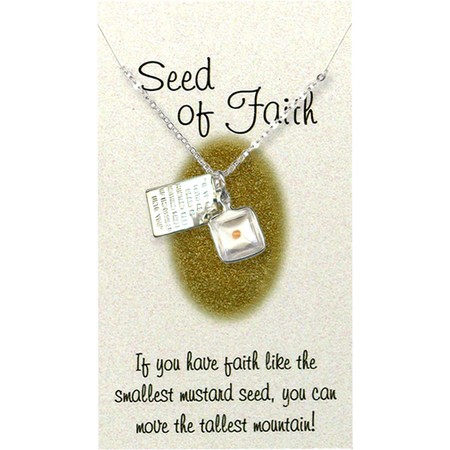 Mustard Seed Dog Tag Necklace
Religious pendant necklace with a genuine mustard seed inside and engraved with this beloved Bible verse:
If you have faith as a grain
of a mustard seed nothing
shall be impossible unto you.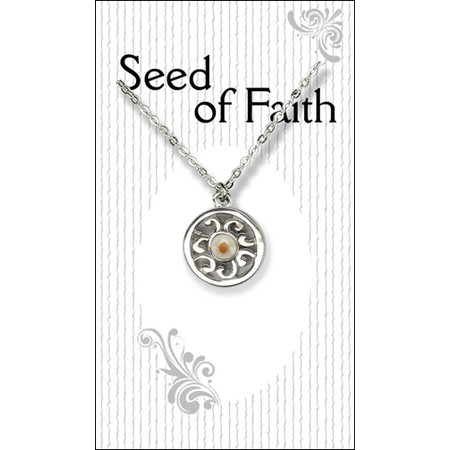 Mustard Seed Circle Pendant
Best-selling mustard seed pendant comes carded for gift-giving.


Mustard Seed Necklace on Gift Cards 12-Pack
12 mustard seed necklaces which contains a vial of mustard seeds and a faith charm. Mustard seed necklace comes on a gift card which reads:
The kingdom of heaven
is like a mustard seed,
which a man took and
plated in his field.
Though it is the smallest
of all your seeds,
yet when it grows,
it is the largest of
garden plants and
becomes a tree,
so that the birds
of the air come and
perch on its branches.

Matthew 13:31-32.
Check out these other religious gift Ideas