Bring the story of the Nativity and the birth of Jesus to life with a child's nativity play set! Nativity scene toys and religious Christmas play sets, offers a child a fun way to learn about each Biblical story character.
Probably the most popular Christian Nativity scene toys, are the Little People, Fisher Price line. Christmas play sets also include: manger scene, wise men, shepherds, sheep, animals, and also toy figurines.
Boys will also enjoy the Playmobil Nativity play sets which come with Biblical action figures.
Even the youngest children can have their own plush Nativity play set with no sharp edges and play with the cute stuffed toy Nativity characters.
Nativity scene toys are a fun tool to help teach younger children about the birth of the Lord Jesus Christ, while keep little hands busy!
Probably the most popular Christmas Bible verse for children includes a few quotes which is as follows:
A long time ago,
the Son of God was sent to Earth
to be born as a tiny baby named Jesus.
It was a very exciting time!
Matthew 1:18-25; 2:1-2:23;
Luke 2:1-39

Plush Nativity Set
Plush fabric Manger with Baby Jesus, angel, Mary and also Joseph part of the itty bittys® line.
First Nativity Scene Toys


My First Nativity Play Set
An adorable first Nativity play set for toddlers. Christian Christmas play set is crafted from wood and has flat figurines.
Preschoolers and toddlers can really play with this Nativity play set and the best part is it is portable with the fold-out stable, which is also a carrying case.
Christmas Donkey in the Living Room Play Set

Donkey in the Living Room Religious Christmas Set
A unique Nativity set for kids, The Donkey in the Living Room, is both a book and Nativity play set.
Both children, and adults, will enjoy the Christmas story, as well as, setting up the Donkey in the Living room figurines. Nativity Book and play set should be read during the 9-days leading up to Christmas.

Little People Christmas Playset for Kids
Fisher Price Nativity set designed for children age 1 and up. Nativity play set has a stable with the Star of Bethlehem which lights up and also plays the tune: Away in a Manger.
Little People Nativity toy also has adorable figurines which includes: Mary, Joseph, Baby Jesus in a manger, Angel, 3 Wise Men, 2 donkeys, donkey cart, camel, cow, sheep, food bin, bales of hay, 2 palm trees, and connected fencing. Don't miss the Little People Christmas Nativity book for kids below!

Little People Christmas Ornament
Adorable Little People Christmas ornament of the Holy Family at the Nativity scene. Little People religious Christmas ornament is a great gift for children.
Playmobil Nativity Toys for Kids

Playmobil Nativity Stable with Manger Play Set
Children will love learning about the Biblical Christmas story with this Playmobil Nativity play set. Nativity play set is recommended for ages 4 and up.
Biblical Christmas play set comes with the manger and stable with a base out front that looks like the ground, and background with the Christmas Star and outside scene during the night! Nativity toy set comes with these figures: Mary, Joseph, Baby Jesus in the manger, one Wise man, donkey, sheep, ox, cooking stove, lantern, and also other accessories.

Nativity and Manger Block Set
Children can have their own Christmas Nativity play set with this fun Playmobil Nativity set that comes with action figures, manger with star, cow, horse, and also a tree!


Three Wise Men Playmobil Toy
3 Wise Men Christmas action figure play set. The 3 Wise Men followed the Christmas Star to the baby Jesus and each figurine is bearing a gift for the newborn King! Religious Christmas toy set is by Playmobil and includes 4 pieces: 3 King figures also a camel figure.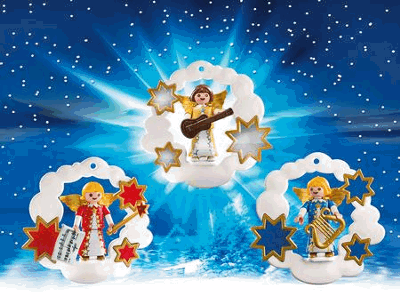 Christmas Angels Play Set
Create a special Christmas scene with this toy angel ornament play set from Playmobil. Set of 3 Christmas angel figurines can be used attached to the ornament and displayed on a Christmas tree.
Birth of Jesus Christmas Play Sets

Birth of Baby Jesus Figurine Play Set
Mini Christian Christmas play set for little children has these 3 figurines: Mary, Joseph, and also Baby Jesus lying in a manger.
Wise Me Nativity Scene Coloring Page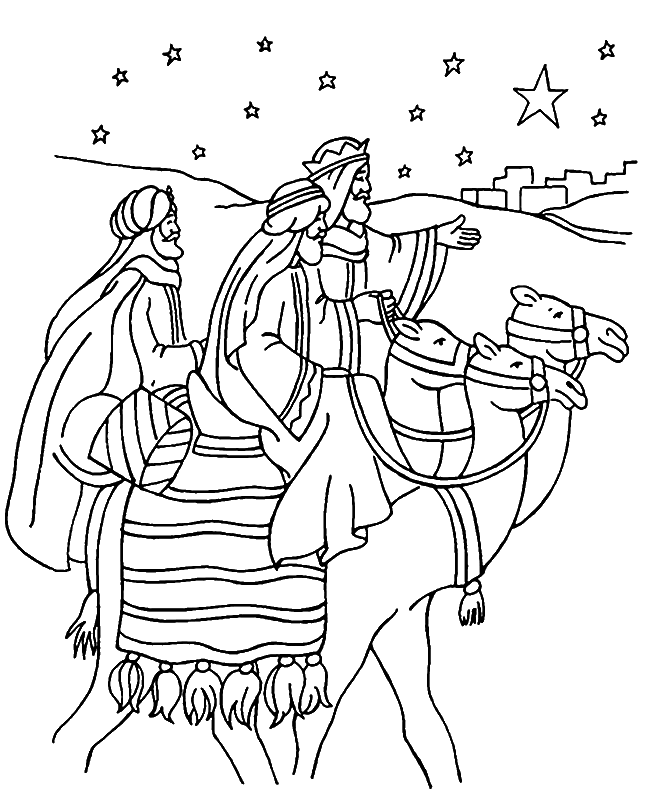 Three Wise Men Coloring Page

Teeny Nativity Kit
The Teeny-Tiny Nativity set comes with mini stable, wood nativity set and also an 88-page tiny The Story of Christmas book.
Check out these other religious gift Ideas