Honor your Pastor and let him know how much he is appreciated for all he does by giving him a card or one of these Pastor gifts!
A Pastor, Priest, or Minister will wear many "hats" in the church and are on call 24-hours a day.
The Pastor is Shepherd to his flock, a wonderful counselor, sermon writer, minister to the sick, problem solver, welcomes new members, performs funerals, weddings, is an evangelist, Bible teacher, oversees the Youth and Children's ministry, and is a humble servant to the Lord.
Depending on the size of the Church, a Pastor, or Minister, will serve the church in a variety of ways. Often a pastor will lead Bible groups, hold membership classes, be the Church janitor, take care of the grounds, be the Church secretary, donate time to the community, and tend to his own family! This list can go on, and on, but these are just some of the other tasks your Pastor may have to accomplish during the week.

Pastor Framed Wall Art and Card Set
Framed art print which reads:
Blessed is he who comes in the name of the Lord.
From the house of the Lord we bless you.
Psalm 118:26
For you are rooted and built up in
Him and established in the faith.
Colossians 2:7.

Pastor Artwork

Our Pastor You Lead Our Congregation Plaque
Pastor You Lead Our Congregation decorative wall art printed with the following poem:
Our Pastor, You lead our congregation
by opening God's Word, and then you
live your life reflecting all we've
heard. You care for others deeply
and lift them up in prayer, and when
we face misfortune, we know that
you'll be there. We really love
you, Pastor, for everything you do.
And we thank God for giving
us a Pastor just like You.
Anne Peterson.

John Piper – Christian Pastor, Theologian, and Author
Photo By American Eagle.

Thank You Pastor Framed Art
Framed art print for ministry apprecian along with the sentimentL
Pastor thank you for your
devotion to God and for
sharing His word with
His people. You are a
reflection of His love and
a blessing to His church.
Pastor Keepsake Gifts

Decorative Pastor Desk Plaque
Handsome Pastor desk plaque with a copper finish, with a banner header engraved with Pastor, and also these inspirational Bible quotes:
Always give yourselves fully
to the work of the Lord because
you know that your labor in
the Lord is not in vain.
Let us not become weary
in doing good for at
the proper time we
will reap a harvest
if we do not give up.
I Corinthians 15:58.
Galatians 6:9.

Pastor Lead Your Flock Figure
Sculpture of a Pastor kneeling in prayer before an open Bible, and on the base is this quote: Let me lead your flock in the chosen way and use my gifts to witness each day.

For God So Loved the World Acrylic Pen Holder
Pastor Keepsake Gift Ideas

Pastor Servant and Leader Journal
Handsome Christian journal with a tan, faux leather cover, printed with the Verse: Pastor, Servant, Leader
I Thessalonians 1:3

Pastor, Servant Leader Boxed Coffee Mug
Gift mug is wrapped in tan, faux leather and printed with this sentiment:
Pastor, Servant, Leader. As we pray to our
God and Father about you we think of your
faithful work, your loving deeds, and the
enduring hope you have because of our
Lord Jesus Christ.
I Thessalonians 1:3

Eagle Scripture Card Holder with 30 Cards
Handsome scripture card holder with a dimensional eagle design to use on an office desk, or other space. Eagle Scripture card holder comes with 30 Bible verse cards and printed with this Bible verse:
His Strength. Isaiah 40:31.
Pastor & Ministry Appreciation Cards

12 Ministry and Pastor Appreciation Greeting Cards
Set of 12 ministry appreciation cards. There are 4 cards in this boxed set with lovely illustrations, quotes and blessings from Roy Lessin. Scripture quote sample:
Then Gideon built an altar there
unto the Lord, and called it Jehovah shalom.
Judges 6:24


Ministry Thank You Pastor Card
Bless the Pastor with this greeting card with a church graphic with a heartfelt "thank you for your service" message and also this Bible verse:
This service that you perform is
not only supplying the needs of
God's people but is also overflowing
in many expressions of thanks to God.
II Corinthians 9:12
Pastor Shirts and Caps

Pastor in the Hood Hoodie
black hooded sweatshirt that says Pastor in the Hood.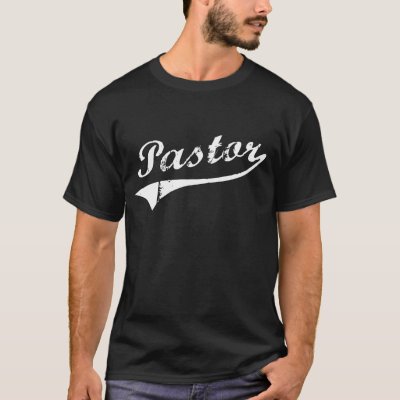 Pastor T-Shirt
Check out these other religious gift Ideas