Religious Christmas Story Books
Religious Christmas story books are a wonderful way to children to study and begin reading about the birth of Jesus Christ.
A Christian Christmas story book with pictures will help children make the connection to the nativity story. Your children will love the biblical nativity story illustrations and learning about God's love for them sending them the best Christmas present ever, Jesus Christ!
Below are many of my favorite Religious Christmas story books for children ages 2 and up. Christmas story books with illustrations will also be loved by the whole family and makes a wonderful holiday family reading time tradition.

Animated Christmas Movie Inspired Book – They Followed the Star
Based on the new Animated Christmas movie, The Star, this new Christian Holiday book stars animals who followed the bright star and helped Jesus, the Newborn King.
The Star Official Christmas Movie Trailer
Beautifully Illustrated Religious Christmas Story Books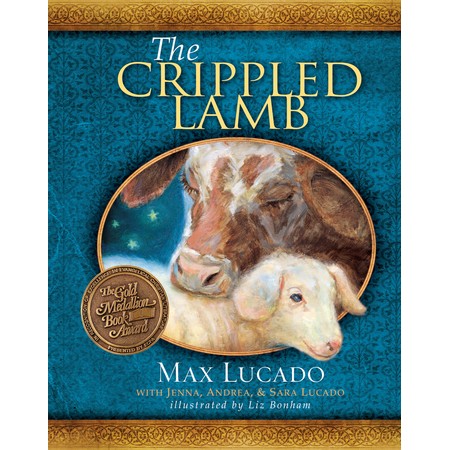 Religious Crippled Lamb Christmas Book
The Gold Medallion Book Award winner by Max Lucado. In this beautiful book, children learn that God has a plan for everyone.
This is the story about Joshua the lamb. He has a bad leg and is crippled. Joshua feels like an outcast and left out among the other lambs. Soon, Joshua will discover that God has a special plan for him. A wonderful story that may help children who feel left out, alone or that they do not fit in with the "crowd".

Humphrey's First Christmas Book for Kids
Kids will love the pictures in this religious Christmas book! This is the story of Humphrey, he was one of the camels who carried the Wise Men to Bethlehem to visit the newborn King, Baby Jesus!

Christmas Story Mailer
Photo by Amboo Who.

The Pine Tree Parable Christmas Book
By Liz Curtis Higgs. A Christmas favorite book for children! This wonderful Christmas story shares the message of loving your neighbor as you love yourself. Pine Tree Parable book is for ages 1 and up.
Interactive Christian Christmas Story Books

Busy Christmas Stable Interactive Book
Your toddler child will discover the Bible story about Mary and Joseph and were they were going on the donkey. Children can relive the miracle of Jesus's birth in this book and play set.
Both children and adults will be delighted with the illustrations in this Christmas book.

Happy Birthday, Jesus Sing-Along Story Book
Christmas  picture book and Happy Birthday, Jesus and Christmas song CD. Happy Birthday Jesus story has beautiful illustrations and the CD which follows the story book and has more Christmas songs for children
Religious Christmas Books for Toddlers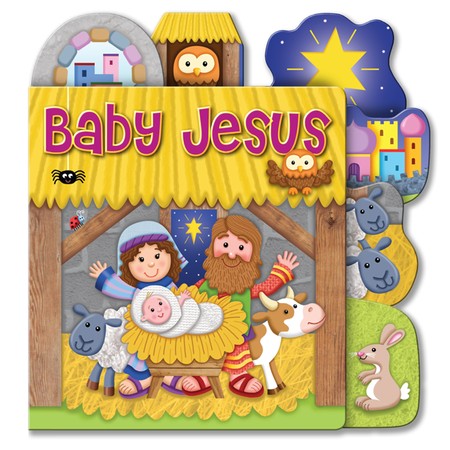 Baby Jesus – Christmas Book
Toddlers can see and explore the Christmas story with this board book. It has colorful tabs, each tab features a character or object poking out from between the pages, give children a clue to the rest of the scene!

The First Christmas Board Book for Toddlers
A beautifully, illustrated Christian board book for toddlers which teaches them the real story of Christmas.
More Religious Christmas Story Books for Kids

First Christmas Bible Story
Come and meet the newborn King, baby Jesus! In this cute Christmas book for children, they will be introduced to the Nativity story through the art work and rhyming text from the Beginner's Bible series for ages 2 and up.

Berenstain Bears and the Joy of Giving
Religious Christmas Berenstain Bears book is about Brother and Sister Bear and how eager they are to open presents on Christmas. Brother and Sister are in the Christmas pageant when they discover the real meaning behind the season and the "joy of giving".

Real Christmas Story Mini Book 12-Pack
Set of 12 religious Nativity mini books to give as Christmas gifts to little ones!
Religious Christmas Sticker Book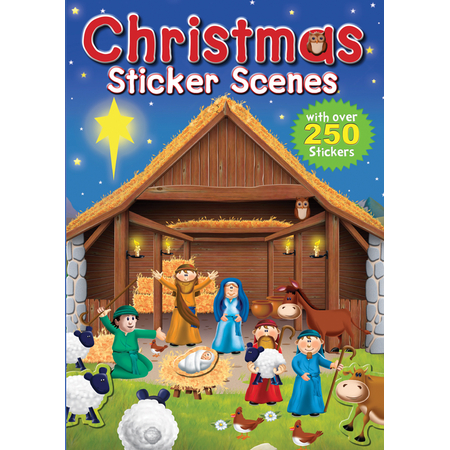 Christian Christmas Sticker Scenes
Christmas sticker scene book has over 250 stickers and the pages are coated  so the stickers can be pulled off and used again. This Christmas sticker book is about the Bible story of Mary and Joseph's journey and the birth of Jesus in the stable.
Christian Christmas E-Books for Children

God Bless Christmas – eBook


Religious Christmas Tear – eBook

Religious Christmas Crossroads – eBook
Check out these other religious gift Ideas