Religious Musical Jewelry Box
A Christian or religious musical jewelry box is always a welcome gift for a girl or woman, who may not already own one. When the jewelry box has a Christian design and musical tune, that makes it extra-special and a gift to last for a lifetime of memories.
The featured religious musical jewelry boxes are just a few of the lovely designs and tunes available. You can find other Christian jewelry boxes for mothers, grandmothers, daughters, sisters and more at the online store.

How Great Thou Art Musical Jewelry Box
A lovely keepsake jewelry box with a lighthouse art print on the top by Steve Sundram and printed with this Bible verse:
I am the Light
of the world.
He who follows
me shall not
walk in darkness,
but have the
light of life.
John 8:12.
Wind up the key, open the lid of this jewelry box to hear part of the tune from the hymn:
How Great Thou Art.

I Can Do All Things Through Christ Musical Jewelry Box
Pretty jewelry box whith a a lovely graphic of a butterfly on the top with this Scripture quote:
I can do all things through Christ who strengthens me.
Philippians 4:13.
Wind up the jewelry box and open the lid to hear the tune: Amazing Grace.
Christian Jewelry Boxes for Mom & Sister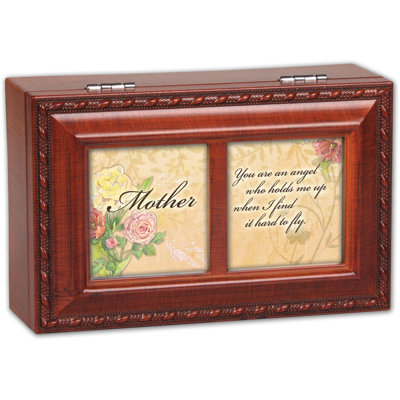 Mother Angel Music Box
Lovely music box has a lovely floral print and a Mother Angel poem on the lid and plays the tune:
You Light Up My Life.
The lovely Mother's poem on the lid reads:
You are an angel who holds me up when I find it hard to fly.

Blessed Sister Music Box
A small jewelry box has the phrase: Sister You have blessed my life on the top and plays the tune:
You Light Up My Life.
Religious Musical Jewelry Box Gifts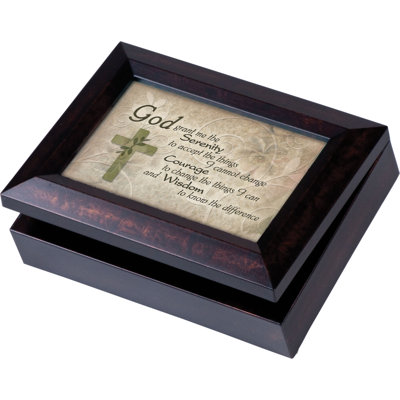 Religious Digital Music Jewelry Box
Jewelry, keepsake box is printed with the beloved Serenity Prayer on the lid, with lining inside, and plays the digital Christian tune:
I Can Only Image.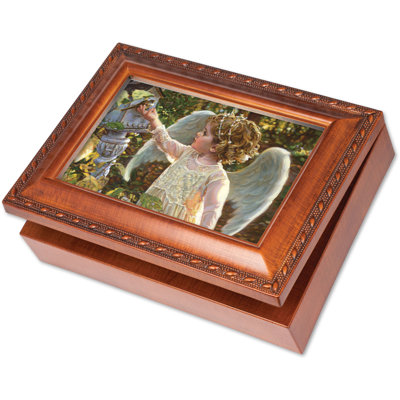 Angel In The Garden Music Box
Musical keepsake, or jewelry, box has an angel in the garden graphic on the top and plays the musical tune:
You Light Up My Life, when opened.


Amazing Grace Musical Jewelry Box
Angel holding bird graphic decorates the top of this Amazing Grace tune Christian music box along with this sentiment:
The Lord is my strength and my song.

Faith Is Seeing Light With Your Heart Music Box
Heart-shaped keepsake music box plays the tune: Amazing Grace, In addition, the music box has a pretty bird graphic on the top, printed with this quote:
Faith is seeing
light with your
heart when all your
eyes see is darkness.

Cross and Dove Music Jewelry Box
A hand-crafted musical jewelry box has the symbol of hope and eternal life in a display of a Cross with 2 white doves. The melody you choose will sure bring moments of tranquility and with over 380+ tunes available, you're sure to find that perfect tune to place in this religious musical jewelry box.

Handcrafted Italian Celtic Cross Inlaid Music Box
This elegant religious music box represents a time of culture and pride. This stunning hand-made music box has a traditional Celtic Cross design and has an 18-note mechanical movement that can play any song from an extensive library of tunes.
Check out these other religious gift Ideas