Ten Commandments Home Decorations
Ten Commandments home decor come in a variety of products. From artwork, home decorations, figurines, jewelry, to the beloved film by Cecil B. DeMille.
Celebrate and honor the covenant between God and Israel given to Moses on Mount Sinai after he led the Hebrew slaves out Egypt. The covenant between the people of Israel and God is known as the Ten Commandments.
The Ten Commandments were engraved on two stone tablets that Moses took up to Mount Sinai. The "rules" of God are not complex. But, during the Bible story, you discover just how hard-headed the freed Hebrews were! How quickly forgot the Ten Commandments and the requests that the Lord made.
Moses first told the freed Hebrews about the Ten Commandments (Exodus 20:1-17) as given to him by God and then he went back up Mount Sinai and they were engraved in the stone tablets, not once, but two times!

Ark of the Covenant With Ten Commandments Figurine
Stunning Ark of the Covenant replica with a detailed visual representation of the Ark that was used in the tabernacle and the temple. Use this Ark of the Covenant replica sculpture to bring the Bible story to life. Use the replica during Bible study time. Or, the Ark replica can be used for a home decoration.
Since the ark replica has these details, the carrying poles, cherubs on the lid, and items inside, which represent the original contents of the Ark, it is life-like.
In addition open the Ark to reveal the Ten Commandments tablets, Aaron's staff, and finally, a bowl of manna. The base has an engraved plaque engraved with this quote:
I will make my
home among them.
I will be their
God and they
will be my people.
Ten Commandments Home Decorations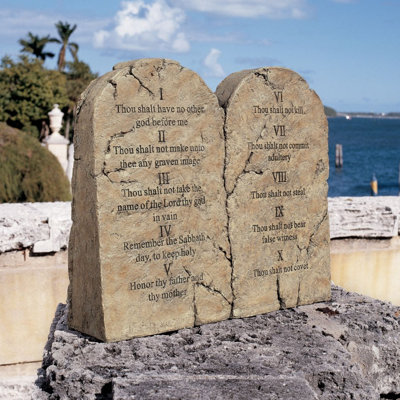 10 Commandments Statue
Replica of the 10 Commandments made to resemble the of the stone tablets Moses received on Mount Sinai. Each tablet has an antique marble look, along with Roman numbers and each Commandment.

Ten Commandments Tapestry Throw
Beautiful tapestry with 4 graphics of the life of Moses, with tablets in the center that have the Ten Commandments.

Commandments Framed Art Picture

Ten Commandments Sculpture Plaque
Stunning 3D plaque showcases the Ten Commandments with this Scripture quote:
You shall love the
Lord your God with
all your heart,
with all your soul,
and with all your
mind and the most
important commandment as
instructed by Christ:
you shall love
your neighbor as yourself.
Matthew 22:37-39
Ten Commandments Jewelry

10 Commandments Bracelet
Mobius bracelet symbolizes eternity and this sterling silver bracelet is engraved with the Ten Commandments from Exodus 20:2-17, engraved in elegant font.

Ten Commandments Pendant Necklace
Scroll necklace encase in exquisitely detailed pendant for a faithful reminder and stylish accessory in one. 18″ matching fine link chain with secure clasp closure; designed in the Holy Land.
Check out these other religious gift Ideas