Thanksgiving Traditions for Families
Thanksgiving is best-known-for spending time with both family, and friends, while having a yummy turkey dinner. Whether you have been hosting Thanksgiving at home for years, or just starting to host Thanksgiving, create new memories by using some of these Thanksgiving traditions for families ideas.
Start a new Thanksgiving tradition before having your dinner. Consider by playing a game, reading a story about the first Thanksgiving, or adding a fun activity for little ones and do Thanksgiving crafts for kids.
Enlist the help of a young adult, to help young children make a Thanksgiving craft! Not only will a craft keep little one's busy, but grown-ups will appreciate having them out-of-the-way.
Almost all the Thanksgiving crafts featured below are easy like: place mats, place card holders, pumpkin pie candy boxes, a turkey centerpiece. Each craft doubles as a useful table decoration!
Engage young children with a story about their American heritage by reading an illustrated story of the first Thanksgiving. For more fun, consider dressing up in a Pilgrim hat, or costume, while the Thanksgiving story book is read.

Pilgrims Place Card Holder Crafts 12-Pack
Children can help make your Thanksgiving more memorable, and have a place for everyone, when you add these Thanksgiving place card holders to your list. Thanksgiving place card holders are made of paper and foam, and come in several designs like: Pilgrim man, Pilgrim woman, and turkeys.

Family Fills Their Plates at Thanksgiving Dinner
Photo courtesy of Loren Kerns.
If you wish to share a prayer before the Thanksgiving dinner, here are two, short Scripture quotes to use:
Give thanks to the Lord, for He is good.
His love endures for ever.
Psalm 136:1

"My food", said Jesus, "is to finish the will of
him who sent me and to finish his work."
John 4:34.
Thanksgiving Party Supplies


Printable Kids Turkey Party Supplies
Printable Thankful Turkey party supplies for kids which includes:
I Am Thankful For A-Z Game
I am Thankful for Coloring Page
I am Thankful For Party Sign
Count Your Blessings Sign
Turkey Bag Toppers
Thankful For You Bag Toppers
Thankful Mini Banner
Turkey & Pumpkin Decals
Pumpkin Bag Toppers

Charlie Brown Peanuts Thanksgiving Party Supplies


Printable Thanksgiving Crossword Puzzle and Word Games
Thanksgiving Craft Ideas for Kids

Thanksgiving Color Posters 30-Pack


Thankful Turkey Crafts
A fun Thanksgiving craft idea for teaching about gratitude. Turkey has 5 Fall leaves for children to write down things they are thankful for and place inside the turkey.

Fall Blessings Cross Crafts 12-Pack
Christian Thanksgiving craft idea for all ages! Create this standing brown foam cross with a base and foam stickers and sign printed with: Fall Blessings.
More Thanksgiving Traditions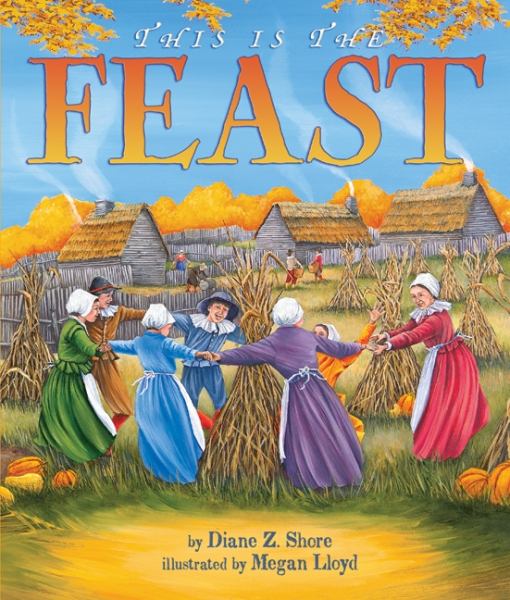 First Thanksgiving The Feast Illustrated Story Book
An illustrated Thanksgiving story book great for all ages. The Story is about the Pilgrims came to the new world on the Mayflower voyage in 1620. The Pilgrims were searching for religious freedom and also a better life.
The Pilgrim settlers were unprepared for the hardships they would face at the end of their journey, but with the help of the Native American Indian neighbors, they survived the first year. After that when the harvest was plentiful, the Pilgrims, and the Indians, joined together in a three-day celebration, which is known as the first Thanksgiving.

Thanksgiving Blessings Quotes Bible Tracts 25-Pack
Thanksgiving is the perfect time to give thanks to the Lord and give thanks for the blessings He gives.
Since Thanksgiving Bible tracts are affordable, they make a great giveaway. Tracts will add a blessing to the Thanksgiving activities. Since the Thanksgiving tracts come in a package of 25, there are plenty to share.
Pilgrim Costumes

Pilgrim Lady Costume
Ladies pilgrim costume comes with the long, black dress with an attached apron and also the white the bonnet.

Boy Pilgrim Costume
Pilgrim costume for boys comes with the shirt, short black trousers, and also the belt.
Check out these other religious gift Ideas