VeggieTales Christmas Gifts
Delight the children in your life with some VeggieTales Christmas gifts under the tree.
Children and adults will enjoy the entertaining cast of veggie characters this Christmas season with VeggieTales movies that explain the birth of Jesus through the eyes of veggies! VeggieTales remain the most popular Christian movies for kids to watch and be entertained, while learning Biblical truths and VeggieTales also offers Christmas activities and toys to give kids instead of secular items.

VeggieTales Merry Larry / Light of Christmas Movie This Christmas VeggieTales movie which has the voice of Si Roberson. Will the true spirit of Christmas shine through as, Larry the cucumber, is the head elf at a nearby shopping mall discovers that Mrs. Crespie just had had her house burned down.
VeggieTales Advent Calendar for Kids

VeggieTales Kid's Advent Calendar
Start December Christmas tradition with your kids when you use this VeggieTales Advent calendar that makes the countdown to Christmas more fun with the VeggieTales Gang.
VeggieTales Christmas Movies

VeggieTales The Little Drummer Boy – DVD
This VeggieTales cartoon is a twist on the beloved classic Christmas cartoon, The Little Drummer Boy! In this VeggieTales movie follow Junior Asparagus, who stars as a poor, lonely drummer boy who stumbles upon the birth of baby Jesus!
You know how this Christmas story goes, he has nothing to give that is worthy of royalty except a song on his drum. But with it be a gift worthy of a king?
Adults and kids will love this Christmas cartoon as they discover the true meaning of Christmas through the eyes of a little drummer boy.
This DVD has exclusive features that includes:
Little Drummer Boy Music Video, Sing along songs, make your own drum craft tutor, interactive book preview Christmas is Finally Here and more!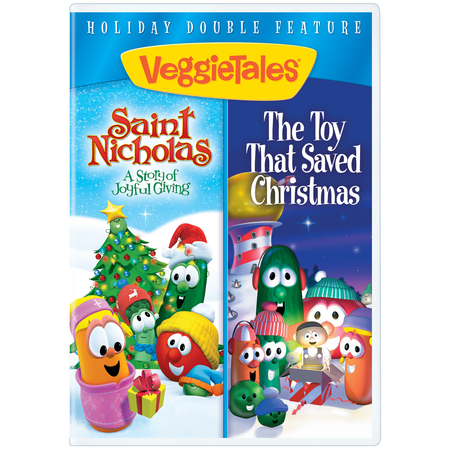 VeggieTales Saint Nicholas and Toy That Saved Christmas Movie Double Feature
Double the VeggieTales movies and double the fun!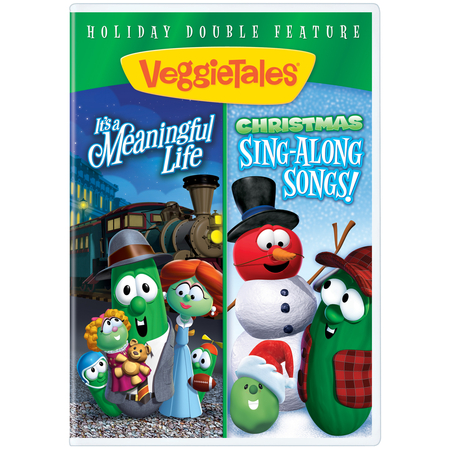 It's A Meaningful Life/Christmas Sing-A-Long Double Feature
This VeggieTales Christmas DVD is a double feature that includes:
It's A Meaningful Life movie and the VeggieTales Christmas Sing-A-Long songs.
A fun VeggieTales Christmas song video which contains these songs:
Away in a Manger, There Must Be More to Christmas, Oh, Santa, and more
VeggieTales Christmas Nativity Playset

VeggieTales Nativity Play Set
Christmas Nativity play set starring the VeggieTales gang! Nativity toy includes the stable with a musical angel on top. Mary, Joseph, Baby Jesus, 3 Wise Men, camel, donkey, and other character figurines.
Funny Vegetable Christmas Art Print for Kids

Let There Be Peas on Earth Christmas Art Download
Although this is not artwork by Veggie Tales, this Christmas print will be a great gift for kids!
Check out these other religious gift Ideas