VeggieTales Toys and Gifts
Children will love this collection of silly VeggieTales toys and gifts. VeggieTales gift ideas are for both, boys and girls and includes: books, DVD's plush, toys and more for Christian children.
If you have not had a chance to watch a VeggieTales movie, get ready for a faith-based wild ride.

VeggieTales Larry Mobile Car
Since every VeggieTale fan needs a super vehicle, consider this Veggie car!
VeggieTales car is based on LarryBoy's vehicle and has headlights sounds, as well as, 2 VeggieTales action figures! Larry car needs 2 AA batteries (included) and recommended for ages 3 and up.

LarryBoy CD DVD and Plush Hat Gift Set
VeggieTales favorite character, Larry Boy, gift set fan's will love! Larry Boy gift set is based on The League of Incredible Vegetables and comes with a double-feature DVD, CD, as well as, a fun plush Larry-Boy hat.
VeggieTales Noah's Ark


VeggieTales Noah's Ark Play Set
Noah's Ark play set based on the cartoon. VeggieTales toy ark is green and comes with Noah (Larry the Cucumber), Noah's wife (Petunia Rhubarb) and also comes with 2 of these animals: elephants, kangaroos, hippos, and also lions.
VeggieTales Toys


VeggieTales Larry Helicopter
Larry Boy fans will love flying high when they play with this VeggieTales helicopter toy. Helicopter comes with 2 action figures: LarryBoy and Alfred.


VeggieTales Wood Train Set
Wood train set for little ones who love the VeggieTales characters. Train set is crafted in solid wood, with 5 train cars, and also 8 tracks.
VeggieTales Storybooks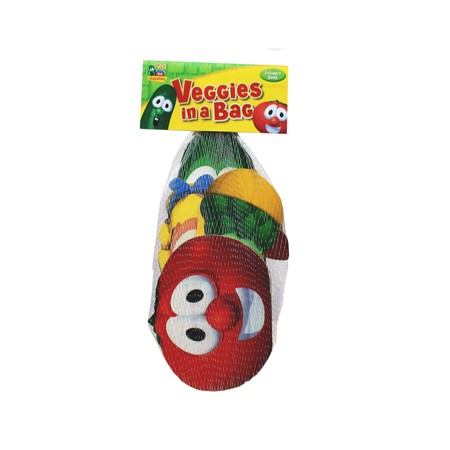 VeggieTales Books in a Bag Set
Snag this bag of VeggieTales board books for your little ones. VeggieTales books which includes:
Junior Asparagus in I Can Have Fun; Larry the Cucumber in I Can Be Me, Bob the Tomato in I Can Do Many Things, and also Laura Carrot in I Can Learn.
VeggieTales Pillows


Veggie Tales Bob Pillow Pet
Children will be eager for bedtime with this VeggieTales Bob the Tomato, pillow pet.
Check out these other religious gift Ideas